Samsung Galaxy Tab S3 fortsätter att vara den bästa Android surfplattan som du kan köpa idag. Den var tidigare på samma prisnivå som iPad Pro, men har nu gått ner en del i pris.
Detta är goda nyheter eftersom detta är vår favoritdesign hos Samsungs surfplattor hittills och den kan göra nästan samma saker som en iPad kan, till ett bättre pris.
När jag kollade på den dystopiska tv-serien The Man in the High Castle på en Samsung Galaxy Tab S3s HDR-skärm började jag tänka: tänk om Apples iPad Pro kunde köra Android? 
Det är ungefär vad vi har här. Det är Androids första värdiga konkurrent till iPad Pro 9.7 (recension på engelska), med förstklassiga specifikationer att matcha med, och paras snyggt ihop med de eleganta Samsung Galaxy S8 och Galaxy Note 8 (recensioner på engelska) – packad med funktioner bakom glas.
Galaxy Tab S3 är lätt den bästa Android-surfplattan som du kan köpa just nu tack vare sin design helt i glas, framtidssäkrade HDR-skärm och en S Pen inkluderad. Det är inte direkt ett svårt beslut för oss att ta – den årsgamla Google Pixel C (recension på engelska) är den enda riktiga konkurrenten med ungefär samma storlek och Tab S3 ersätter den nu billigare Samsung Galaxy Tab S2.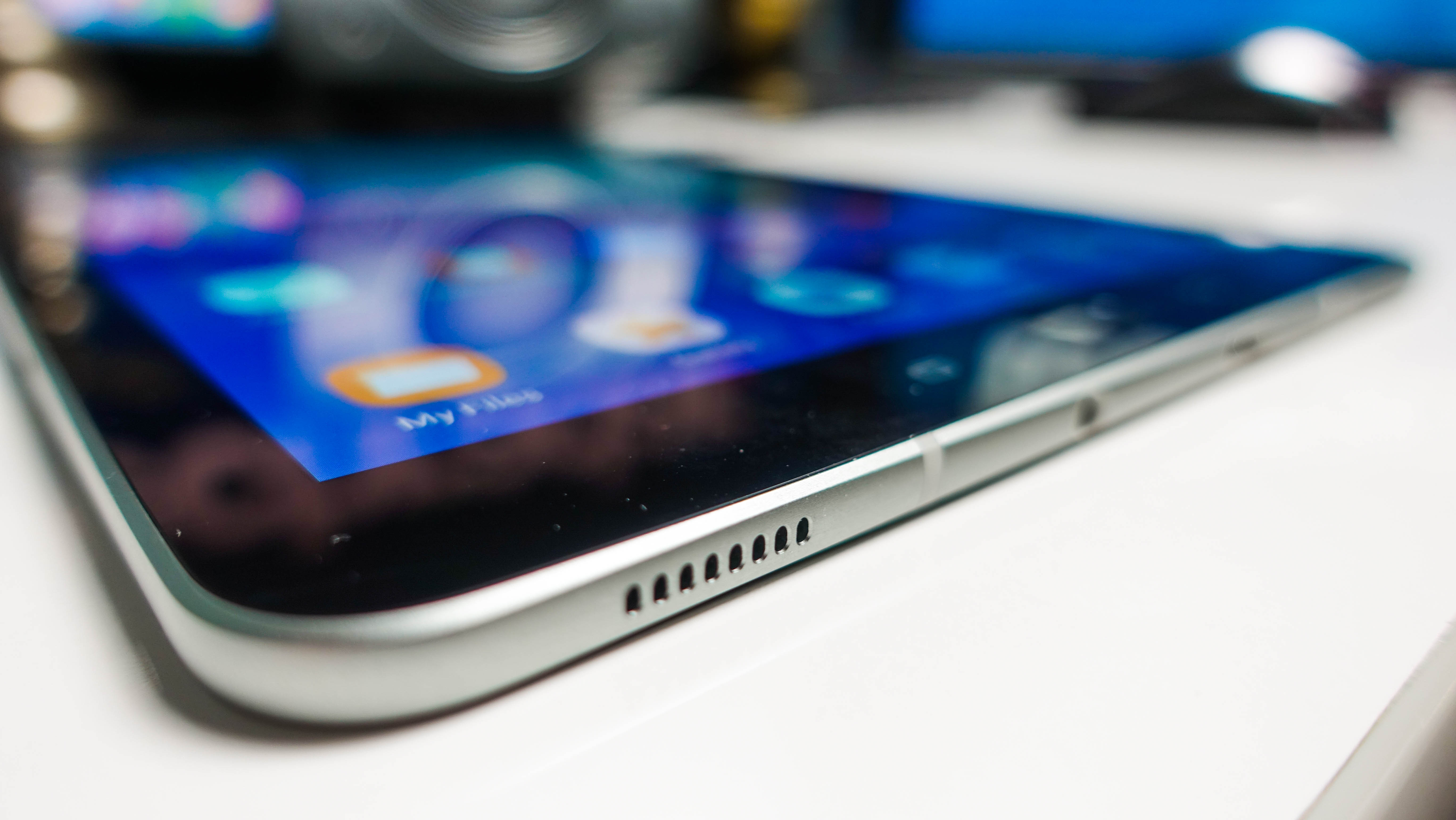 Det som är utmaningen här är att veta vem Tab S3 passar för. Den kostar från 6 390 kronor och även om den kommer med en S Pen (Apples surfplattor inkluderar inte penna i sin box) är tangentbordet separat. När du lägger ihop allt gränsar den till billiga datorer i pris och det finns ingen billigare 8-tums Tab S3 för att ge dig ett mer prisvärt alternativ.
Du får den första HDR-redo surfplattan, med bättre ljus och kontrast,  Samsung Galaxy Tab S3, men vi väntar fortfarande på att Netflix och Amazon Video ska börja visa HDR-innehåll på sina Androidplattor. Än så länge så är det endast LG G6 som kör Android och får HDR-videor genom Netflix.
Galaxy Tab S3 är Samsungs bästa res-vänliga 2-i-1 surfplatta som kan göra dig produktiv – om du är villig att betala extra för ett tangentbord. Den är tunnare och lättare än den liknande 2-i-1 Samsung Chromebook Pro datorn, som inte har ett avtagbart tangentbord och är inkluderat med en mindre S Pen, och ger äntligen iPad Pro riktig konkurrens. 
Samsung Galaxy Tab S3 pris och lanseringsdatum
Du kan nu hitta den billigare
Surfplattan med S Pen kostar nu 6.390 kr
Tangentbordet säljs separat för 1.240 kr
Lanserades 24 mars, 2017 i USA och 7 maj, 2017 i Sverige
Samsung Galaxy Tab S3 kostar nu 6.390 kr, vilket betyder att priset gått ner en del sedan lanseringspriset (6.990 kr) och är nu billigare än en iPad Pro 9.7 (som kostar ca 7.000 kr). Förutom Wifi-modellen så finns det även ett alternativ med både Wifi och cellular, vilket kostar lite mer (6.990 kr).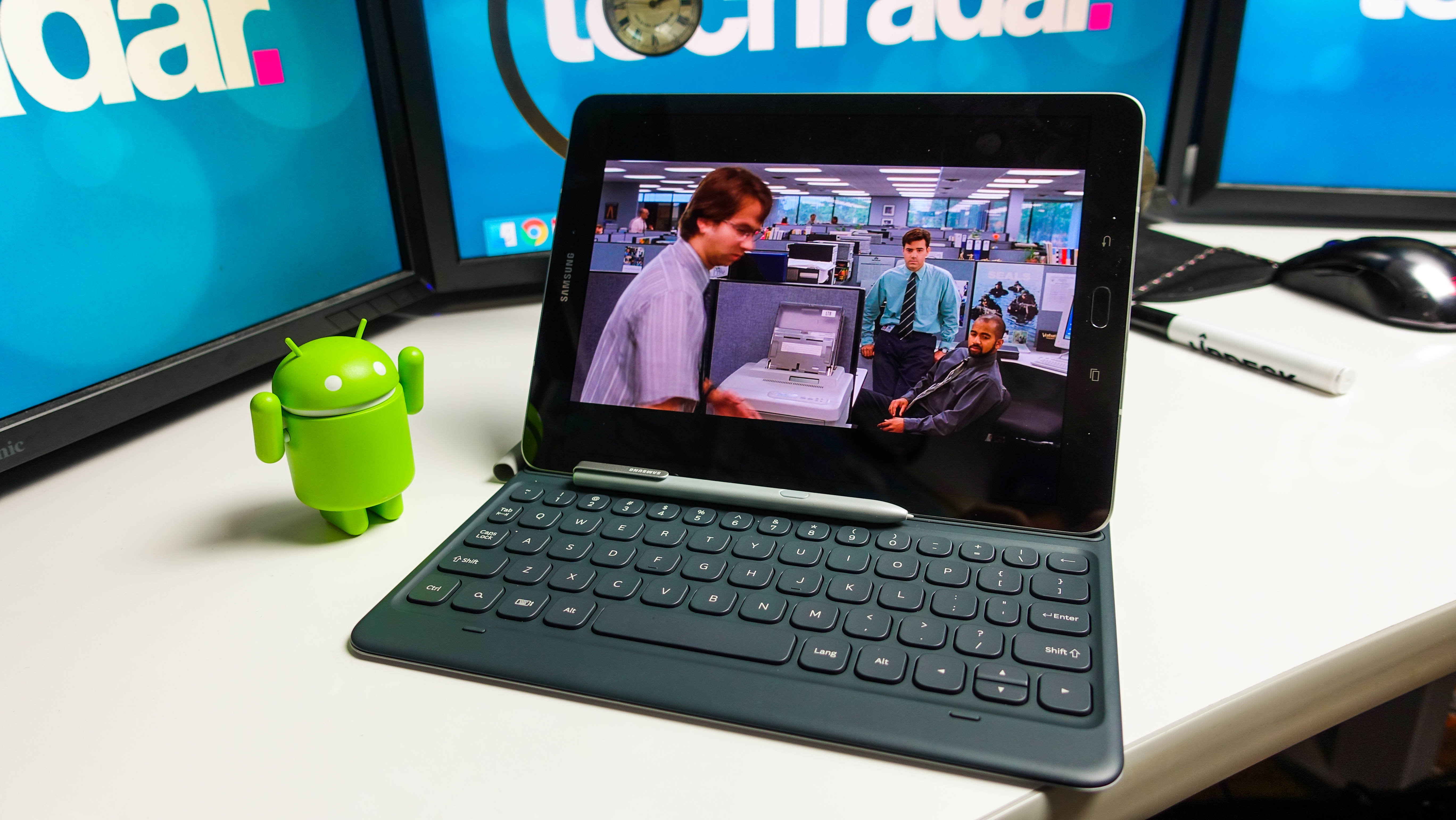 Det stora värdet som den har över Apples surfplatta är genom S Pen, som är inkluderad med Tab S3 – Apple Pencil kostar en extra tusenlapp (1.095 kr). Du behöver inte heller tänka på att behöva ladda Samsungs S Pen, och du får ännu fler nivåer av tryckkänslighet för att kunna rita och skriva.
Galaxy Tab S3 tangentbord innebär ett separat köp, där Samsung tar 1.240 kr. I Storbritannien så ingick tangentbord gratis om man förhandsbokade surfplattan, och i USA så ingick ett 64 GB microSD-kort, vilket är lite mindre generöst.
Gällande lanseringsdatum så lanserades den i USA den 24 mars och var tillgänglig på den svenska marknaden den 7 maj, 2017.
Design
Elegant designad glas- och metallplatta
Mer bekväm att hålla i än den tidigare versionen i plast
Annars ser den precis likadan ut som Galaxy Tab S2
Samsung Galaxy Tab S3 har fått en liten, men bra, uppgradering i designen jämfört med Galaxy Tab S2, även fast det är väldigt lätt att missta den för att vara Samsungs ett och ett halvt år gamla surfplatta när du ser den framifrån.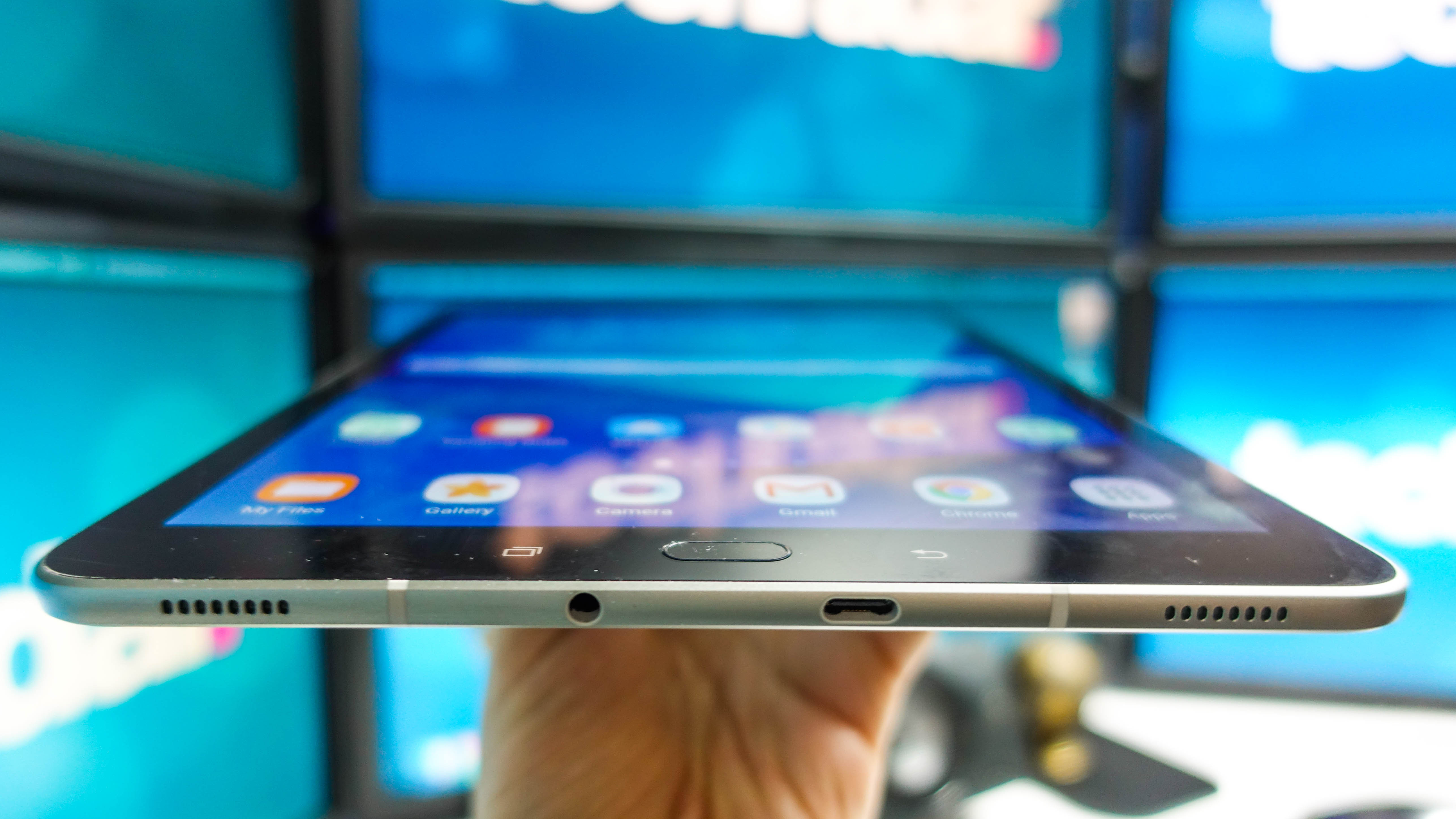 De bästa skillnaderna är på baksidan, där Tab S3 kör på en ny glaspanel i antingen svart eller silver. Den både känns och ser bättre ut än det plastiga runt Tab S2, och glaset är mer bekvämt att hålla i; medan du byter ut svettsamlingar på den tidigare modellen till fingeravtryck och fläckar på den nya backsidan, så känns det bättre.
Samsung kan tekniskt sätt fortfarande påstå att Tab S3 är tunnare och lättare än iPad Pro, med sina dimensioner på 237,3 x 169 x 6 mm, och en vikt på 429 g (iPad Pro 9.7 är 6,1 mm tjock och väger 437 g). Men bli inte lurade av detta; variationerna är knappt märkbara. Tab S2 är 5,6 mm och 389 g, och vi kände knappt någon skillnad alls mellan dessa tre plattor.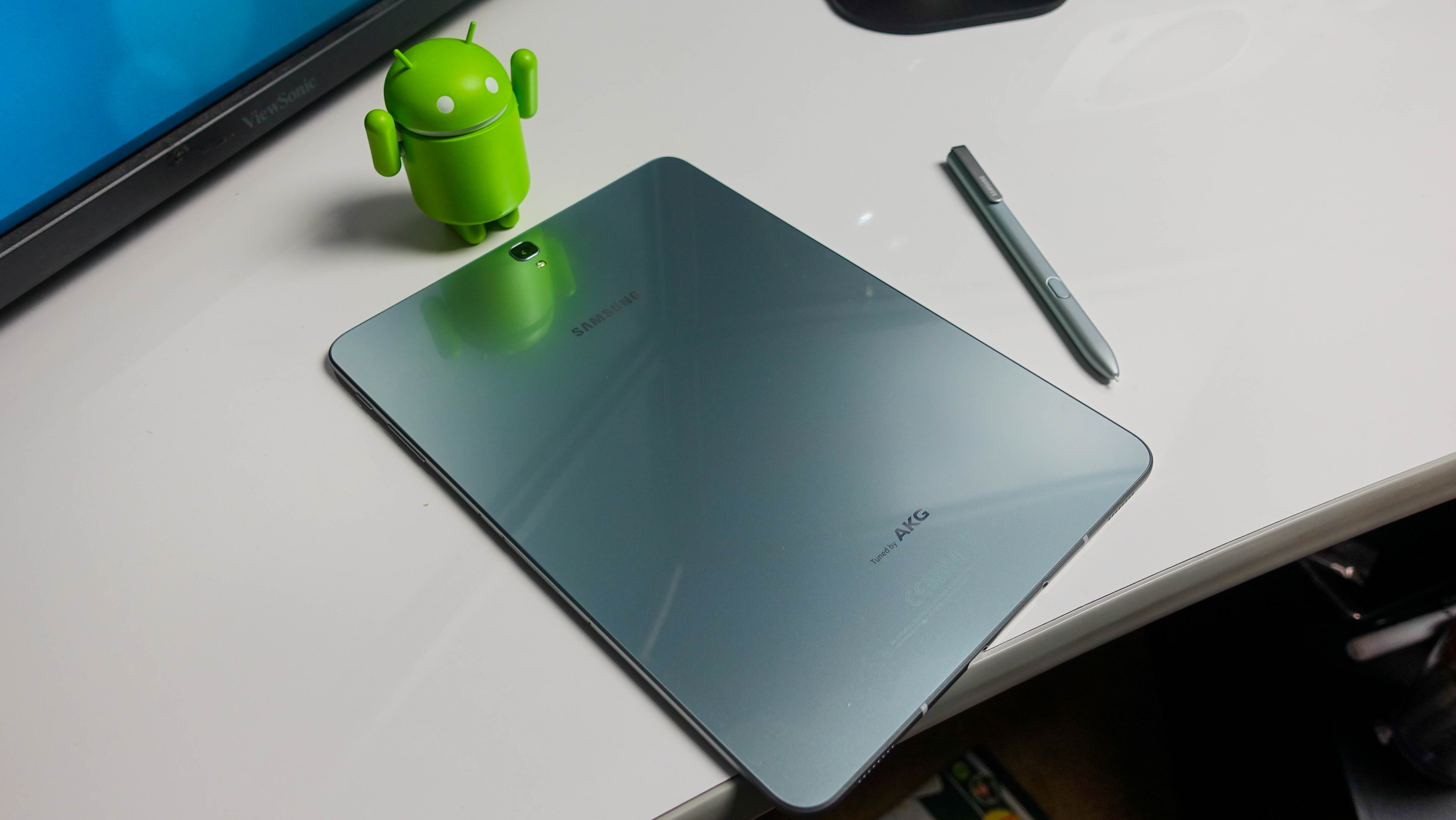 Tab S3 ser ut som, och känns som, en förstorad version av Samsung Galaxy S7 telefonen (recension på engelska), med en användbar fingeravtrycksläsare på hemknappen, och 'tillbaka'- och 'senaste'-knappar bredvid i botten. Utan tangentbordet så fungerar den först och främst som en underhållningsenhet.
Den stora skillnaden kan ses och höras genom HDR-skärmen, som pumpar upp kontrasten, och fyra högtalare, som pumpar upp volymen mycket bättre än hos plattor med mono-högtalare. Vi fick smaka på HDR-upplevelsen på en mobil enhet hos den kortlivade Samsung Galaxy Note 7 och den kommer tillbaka på Samsung telefonerna tillsammans med Galaxy S8 och Galaxy S8 Plus. Men innan dem så debuterar den på en surfplatta, vilket ger lovord om en verklighetsliknande videoupplevelse i framtiden.
HDR-skärm och fyra högtalare
Briljant HDR-redo skärm som väntar på HDR-videor
Framtidssäkrad som världens första HDR-redo surfplatta
Fyra högtalare som kan bli väldigt högljudda och är finjusterade
Samsungs surfplattor och smarttelefoner har redan de bästa skärmarna just nu, med ljusa och pixel-täta Super AMOLED skärmpaneler. När de nu inkluderar HDR-teknologi så gör Samsung dem ännu bättre.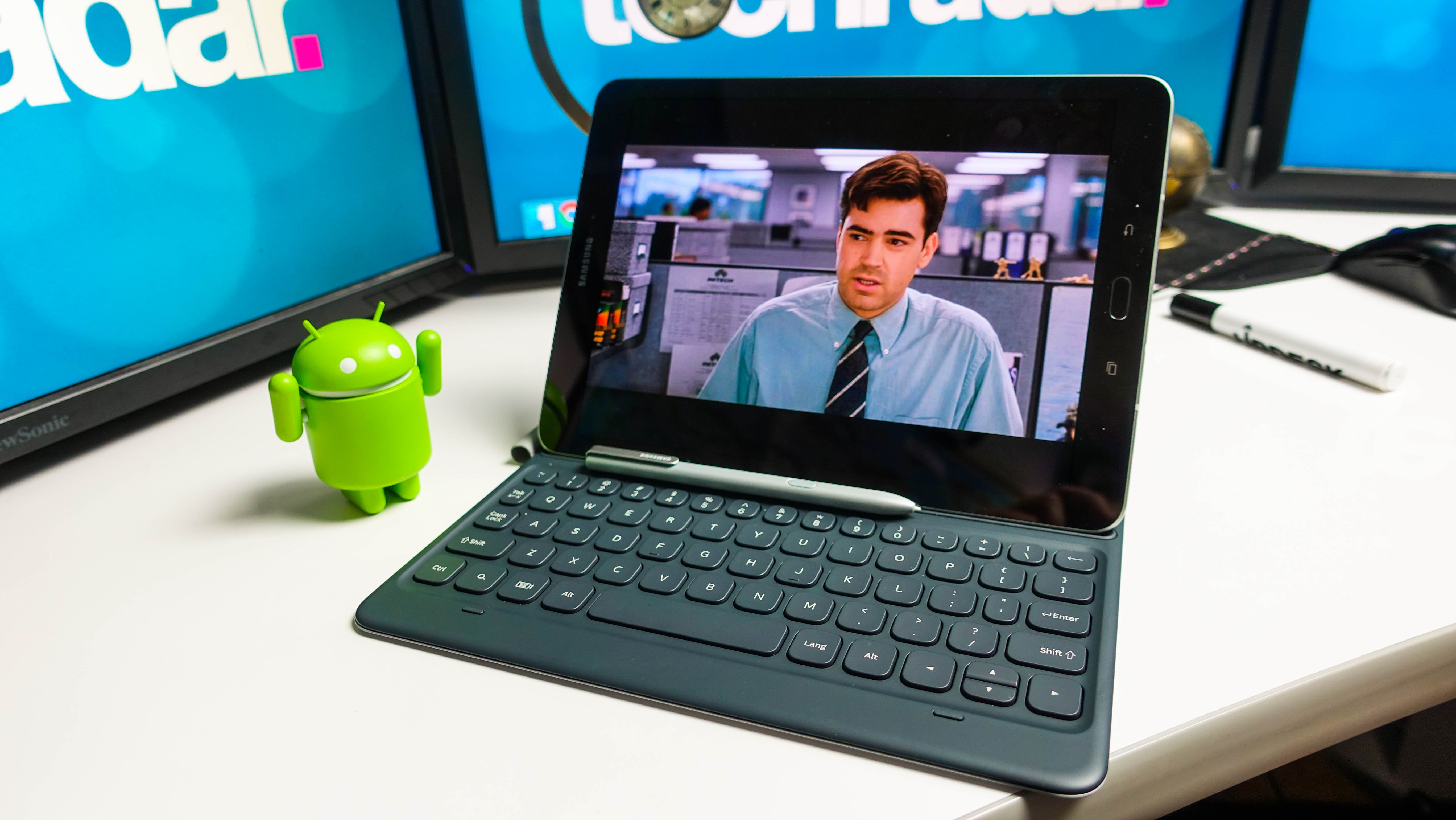 High Dynamic Range (HDR) ger samma 2048 x 1536 Quad HD bildupplösning, högre kontrast förhållanden och ljusare höjdpunkter. Detta är speciellt viktigt vid mörkare videoscener där du annars kan förlora mycket av bilden till skuggor.
Tab S3s support av den nya HDR10 standarden är faktiskt en större sak än om Samsung skulle trycka in en 4K skärm in i en 9,7-tums platta. Den expanderade ljusstyrkan ger mer än fler pixlar skulle hos denna lilla storlek – fler pixlar gör mer när det handlar om en större 4K TV.
Här är dock problemet: det finns inte så mycket HDR-videor tillgängliga idag. De körs redan vid streaming av tjänster som Amazon Video och Netflix på Samsung, LG och Sony TV-apparater, men vi lyckades inte hitta HDR-videor via dessa tjänster som kunde visas på surfplattan.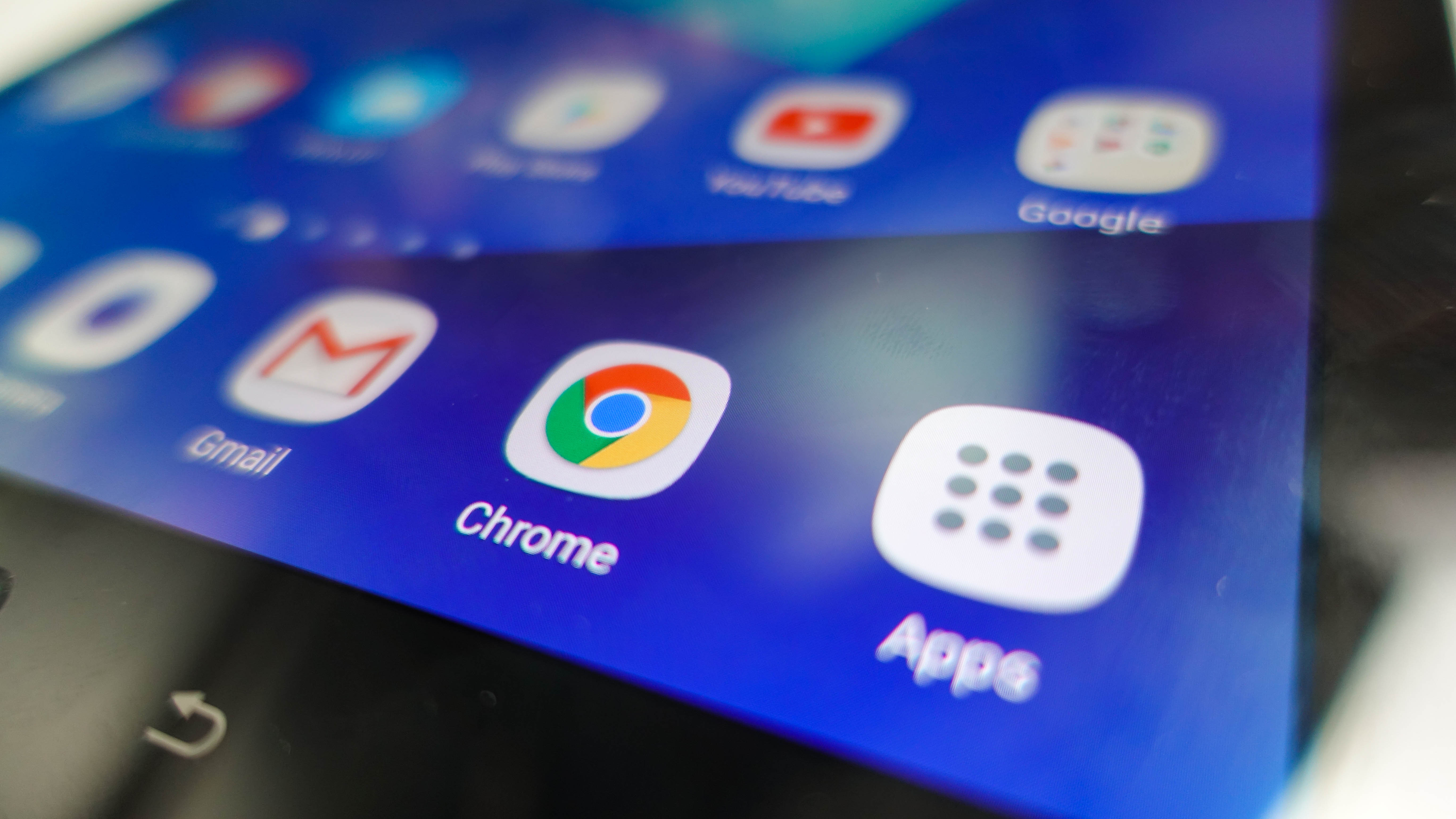 Istället så fick vi lägga vår tillit på Samsungs HDR demor och filmtrailers för att njuta av vad som kommer i framtiden för videor. Det är definitivt ett steg uppåt gällande kvalité, men eftersom videorna inte finns här än så betyder det att du betalar i förväg för surfplattan. Detta gör Tab S3 till en fantastisk teknisk sak, men svår att sälja till vanliga användare vid lanseringen. 
Vad som går att göra direkt nu är att njuta av de fyra högtalarna på Tab S3. De når en mycket mer kraftfullare volym än vad vi har hört från mono-högtalarna på Tab S2 och andra surfplattor. Vad som är ännu bättre är att de är kalibrerade till dina rörelser, så när du snurrar på plattan så orienterar sig stereohögtalarna, så att du aldrig håller i den fel när det gäller ljudet.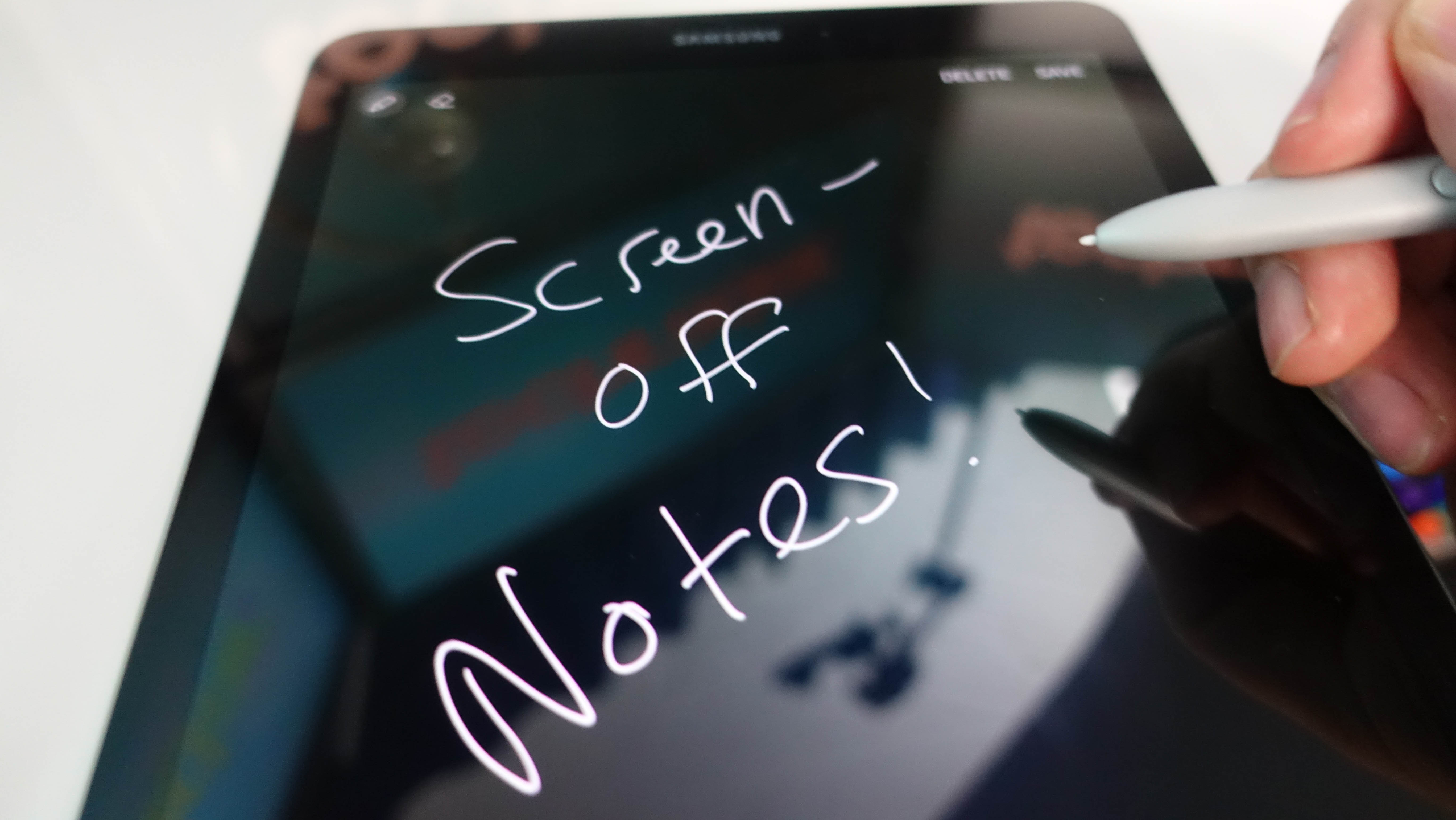 Så länge du inte förväntar dig djupare bas, så går dessa AKG-justerade HD-högtalarna öra-till-öra på samma sätt som de klockrena högtalarna på iPad Pro 9.7. Du kan få lite bas ut ur Tab S3 med de rätta hörlurarna, vilket du säkert kommer att använda oftare när du ska pumpa ljud genom denna platta på allmänna platser.
Och en bra nyhet: denna surfplatta har både 3,5 mm hörlursuttag i botten av ramen och stödjer Bluetooth 4.2. Ingen tar bort hörlursuttagen på surfplattor – än.
S Pen
Större än S Pen i Note-telefonerna, surfplattorna och Chromebooks
Stylus designen är platt och har ett spänne – så att den inte rullar ifrån dig
Men det finns ingenstans att spänna fast den om du inte köper tangentbordet
Samsung Galaxy Tab S3 förändras i både utseende och potential med sin inkluderade S Pen och ett tangentbord ditsatt. De är de tillbehören som du måste ha för att låsa upp den fulla potentialen för denna 2-i-1 surfplattan.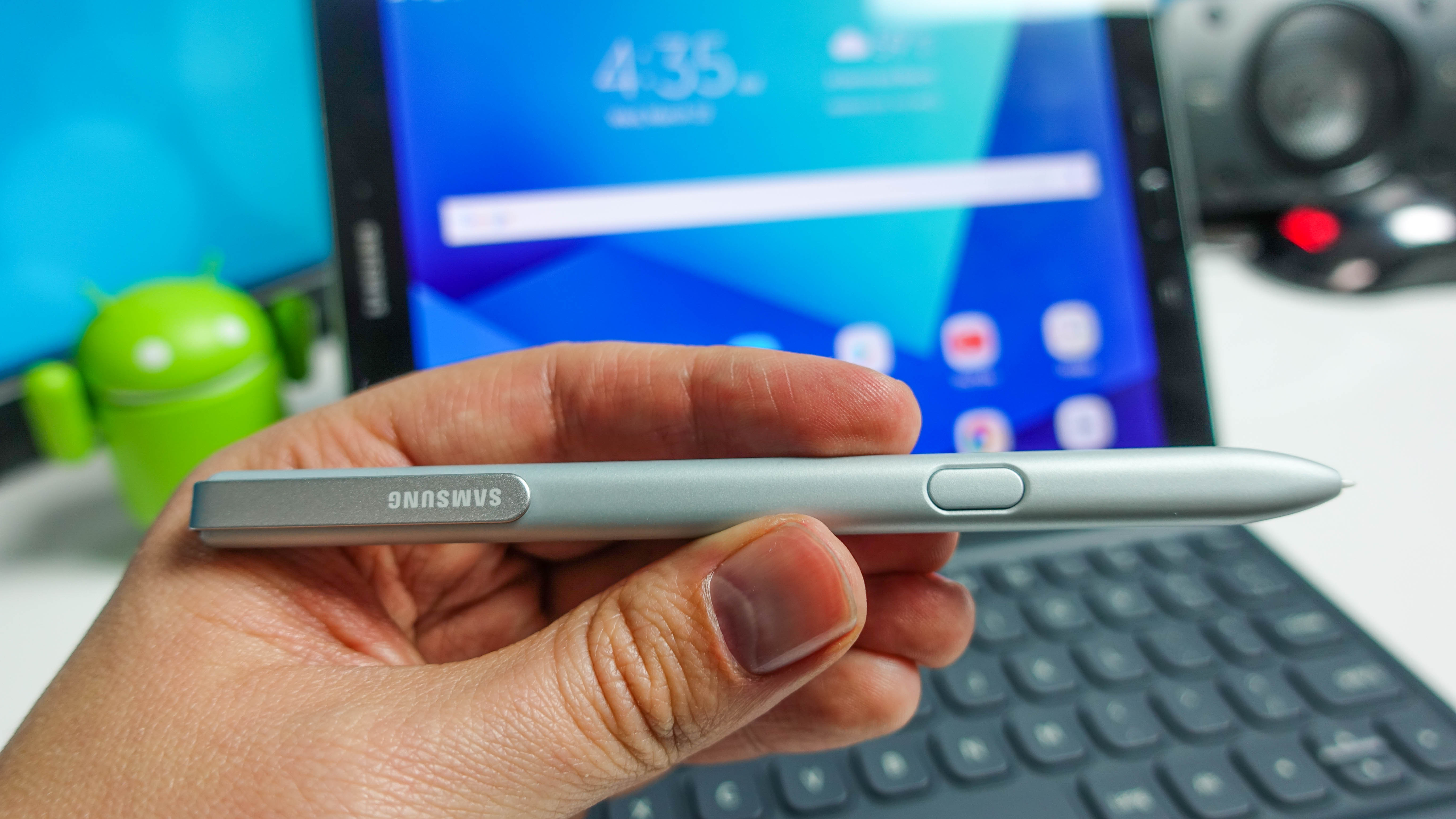 Denna S Pen är en uppgradering från den tunna stylus (stiftpenna) som vi använt på Note-telefoner och på Samsung Chromebook Pro. Med sina 9,4 mm så är den större och lättare att hålla, och gör att den tidigare S Pen ser ut som en tandpetare i jämförelse. Den har en fin 0,7 mm bred topp (som nu är gjord av gummi istället för plast), och en klickbar sido-knapp för att få fram igenkända verktyg.
Alla de vanliga verktygen för S Pen är här, även Notes, Smart Select (som kan skapa skurna eller klippta skärmbilder och GIF-bilder), och Screen Write (där du kan skriva direkt på en skärmbild). Det finns även tre nyare funktioner som kan läggas till den expanderande kortkommando-listan: Translate (översättning), Magnify (zooma in) och Glance (överblicka appar).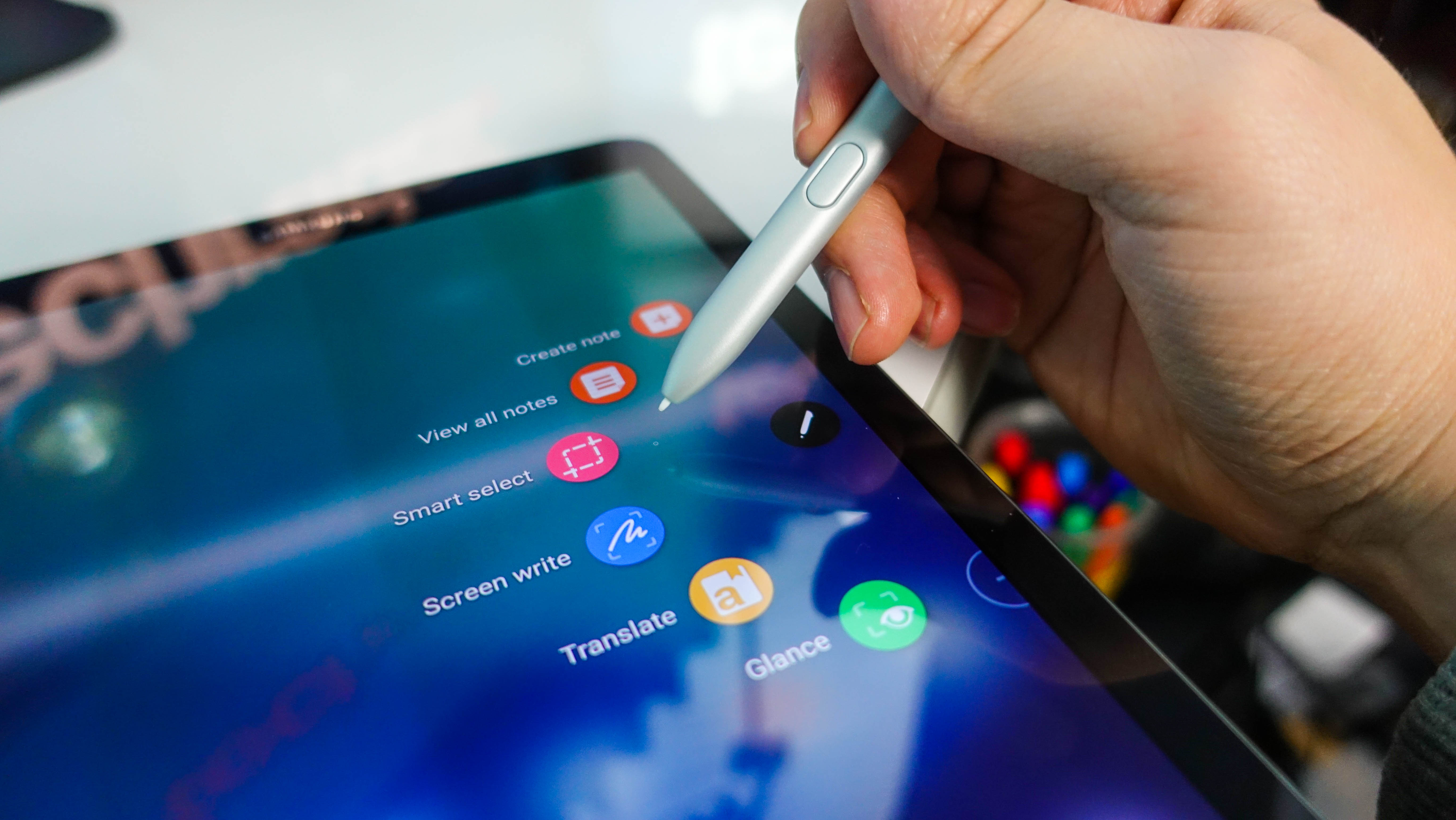 Handskrivning och att rita är också naturligt bättre på en surfplatta när man använder en tjockare S Pen. Det är ungefär samma bredd som på en Apple Pencil, men kortare och klarar av fyra gånger fler trycknivåer. Den fångar verkligen alla vinklar, vilket är suveränt för skuggning, beroende på vilken app du använder. Samsung inkluderar två appar – Notes och målarbok-liknande PEN.UP – och det finns ännu fler hos Google Play.
S Pen passar inte på den tunna plattan, så du kan inte gömma den tjockare pennan när den inte används. Istället så har Samsung satt dit en pennhållare på tangentbordet – om du köper tangentbord. Den goda nyheten är att S Pen inte behöver laddas och rullar inte iväg hela tiden, då den har två plattare sidor och ett spänne. Apple Pencil gillar att rulla av bord för att det inte finns någonstans att sätta den och, om den används ofta, alltid riskerar att vara urladdad.
Tangentbordsfäste
Fungerar även som ett fodral som går runt båda sidorna
Behöver inte laddas eller paras ihop – det bara fungerar
Fliken kan inte stänga av skärmen eller stängas magnetiskt
Samsung Galaxy Tab S3s tangentbordsfäste är värt den extra kostnaden om du letar efter något som gör att denna surfplatta liknar mer en dator. Den sammanpressade designen (en nödvändighet) är fortfarande användbar, med bra tryckkänslighet när du trycker på plasttangenterna – och alla viktiga tangenter finns här.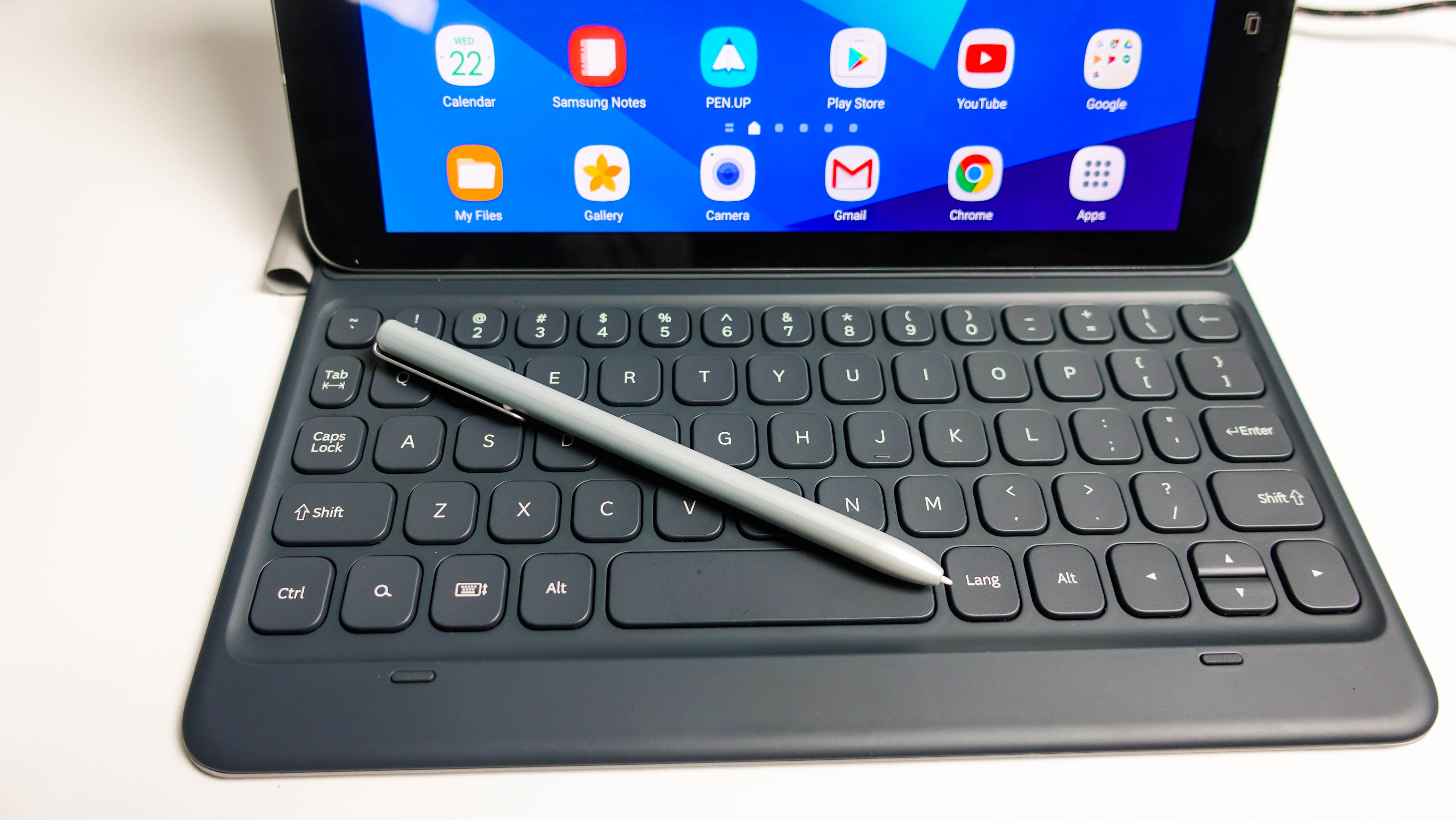 Vad saknas? Det finns inga funktionstangenter högst upp (vi är helt okej med det), och det saknas en hemknapp, vilket betyder att du behöver sträcka upp fingret till avläsaren för att låsa upp skärmen eller komma till hemskärmen, vilket kan göra att du välter ditt kaffe i samma veva. Vi skulle också vilja att sök-knappen tog fram Google Sök istället för Google Now on Tap (Google nu med ett tryck), vilket kräver ett extra skärmtryck för att få fram sökboxen. 
Allting viks upp fint och inlindar surfplattan i ett mjukt plastfodral på både sidorna. Detta är ett stort plus. Apples iPad Pro tangentbordsfodral skyddar endast framsidan av skärmen – och aluminium kan få skador, precis som glas kan splittras. Samsung slänger i princip in ett baksida-fodral gratis.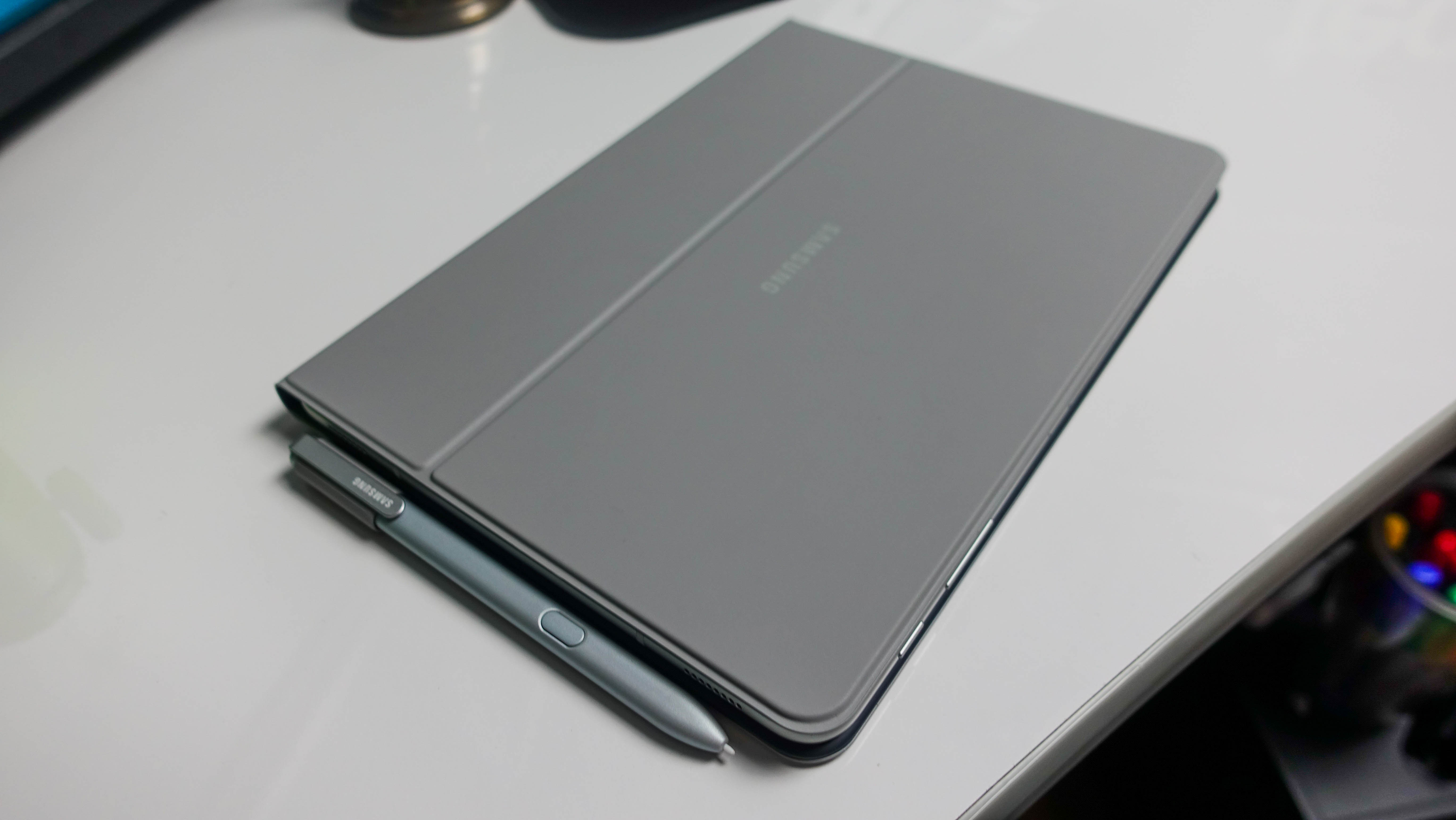 Bäst av allt, det behövs inte längre någon Bluetooth-parning eller laddning. Tangentbordet har sex stycken Pogo-pinnar över den översta raden tangenter, och dessa klickar sedan magnetiskt till Tab S3s sidoram.  
Vi önskar bara att magneterna var starkare. När man tar upp surfplattan i skärmen så lossnar ofta undersidan av tangentbordet (tur nog så har baksidan fler magneter som gör att den säkert sitter kvar). Slutet av skärmens fodral borde också vara magnetiskt, och borde kunna stänga av skärmen när den stängs. Det gör den inte – istället så kan den flyga upp om du inte är försiktig.
Android 7.0 och appar
Samsung Experience-mjukvaran är lättare att använda än någonsin
Att dela skärm vid multikörning fortsätter att vara den största svagheten
Den kan inte fullt ut ersätta din dator utan en riktig app station
Samsung Galaxy Tab S3 kör Android 7.0 Nougat med den senaste versionen av Samsung Experience-mjukvaran, vilket gör det lätt och smidigt att navigera igenom alla appar och inställningar.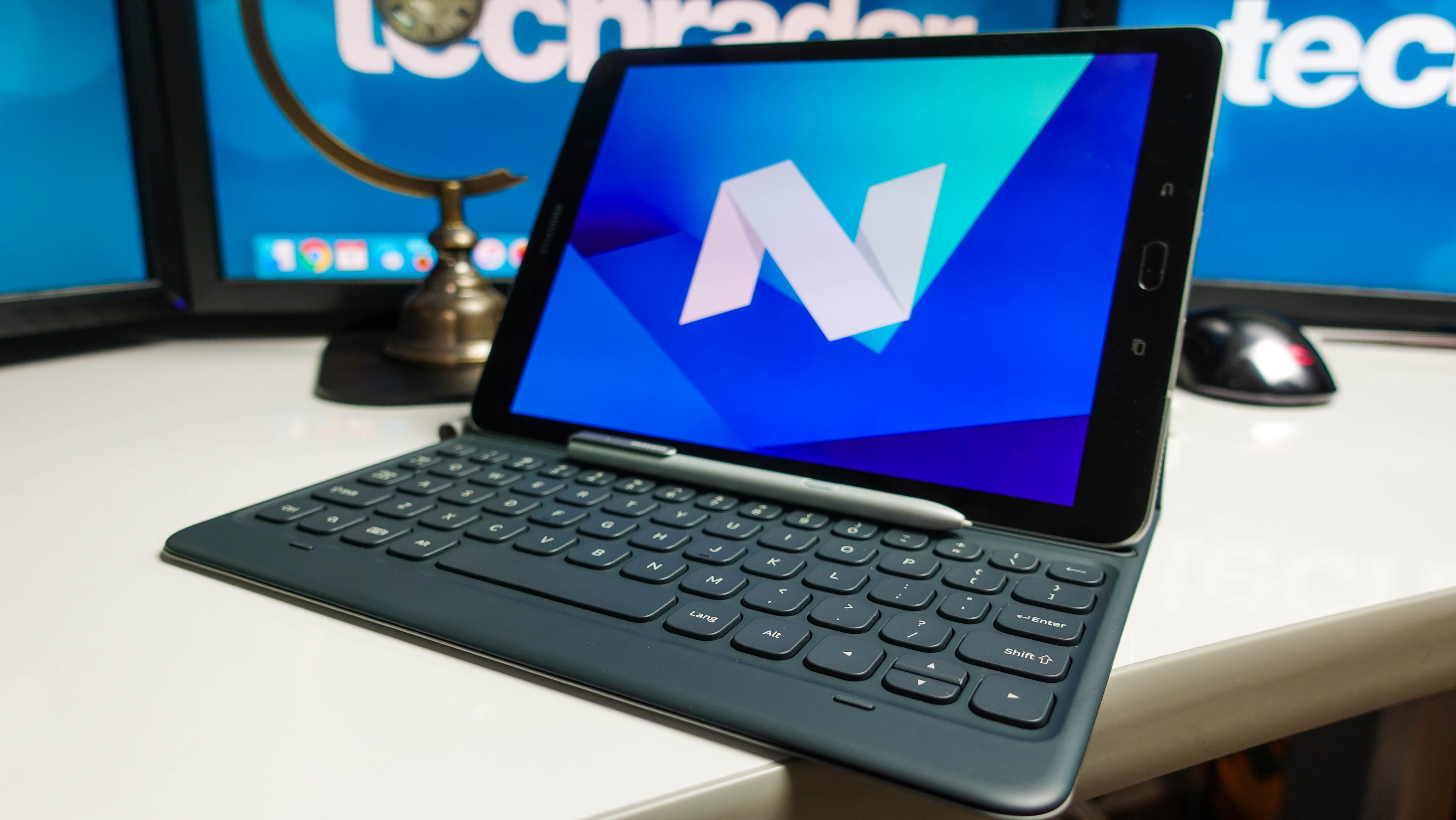 Var inte rädd för Samsungs mjukvara, tidigare känd som TouchWiz. Den har fått ett dåligt rykte, men företaget har finjusterat utseendet och känslan av mjukvaran under de senaste två åren. Den känns inte längre överdriven, som den gjorde när Galaxy S4 och Galaxy S5 lanserades. Och den har nu fler egenskaper än någonsin.
Vad som är nytt är den förbättrade logistiken från Galaxy S7 och S7 Edge. Samsungs snabbinställnings-rad är inte längre ohanterlig och Googles senaste uppdatering grupperar liknande notifikationer tillsammans. Menyn med inställningar är sökbar och för att göra saker mer förvirrande finns det på botten av varje delmeny förslag på liknande inställningar. I menyn för inställningar av notifikationer finns det till exempel en genväg: "Letar du efter Stör Ej?" Det visade sig att den fanns inne på "Ljud och Vibrationer'-menyn.
Något den tagit med sig från Note 7 är en speciell Säkerhetsmapp för att portionera bort appar, bilder och videor. Blädderblock kom också tillbaka, och även vänstermenyn för lättare skrollning genom dagens nyheter.
Samsung Flow gör sin debut hos Android surfplattor och hjälper övergången till och från din smarttelefon. Den låter dig trådlöst dela filer, kolla igenom notifikationer och ta samtal på plattan (och se ut som en dåre samtidigt). Att länka samman en telefon och en surfplatta såhär gör att det underlättar när du får sms-meddelanden på din telefon samtidigt som du håller i surfplattan.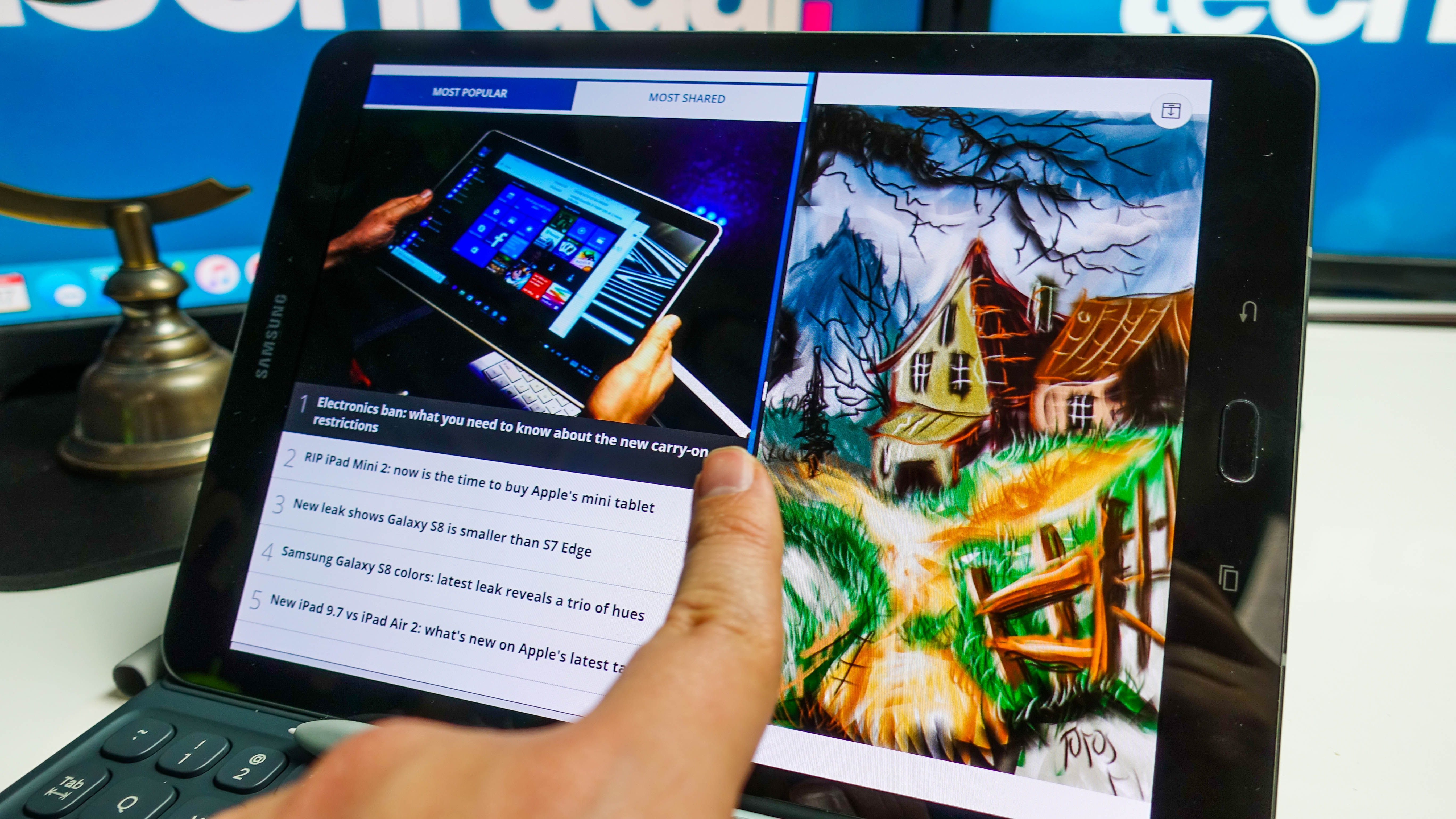 Android 7.0 Nougat deputerade med delad-skärm-multikörning, men Samsung hade redan denna funktion i sin Tab S2. Gamla nyheter. Men vid den tidpunkten så började appar att stödja multikörning på ett operativsystem hos Android. Så Googles påtryckning för delad-skärm på andra enheter är användbar.
Multikörning är fortfarande den största svagheten hos en Androidplatta (och till och med hos iPad Pro). Det finns ingen bra meny för att lätt kunna hoppa mellan appar, och den 'senaste'-menyn är alldeles för långsam för att kunna hoppa fram och tillbaka mellan appar. Tills 2-i-1 kör samman mobilens och datorns operativsystem, så är vi fast med en ganska tafatt multikörning.
Filmer, musik och spel
Väntar på HDR-videor från Amazon Video och Netflix
Nästan omöjligt att råka täcka de fyra högtalarna
Game Launcher (kontrollcenter för spel) debuterar på surfplattan med verktyg specialanpassade för spelare
Samsung Galaxy Tab S3:s starkaste profil är att vara en underhållare. Om du letar efter den bästa Android-plattan för filmer, musik och spel, är det denna du vill ha.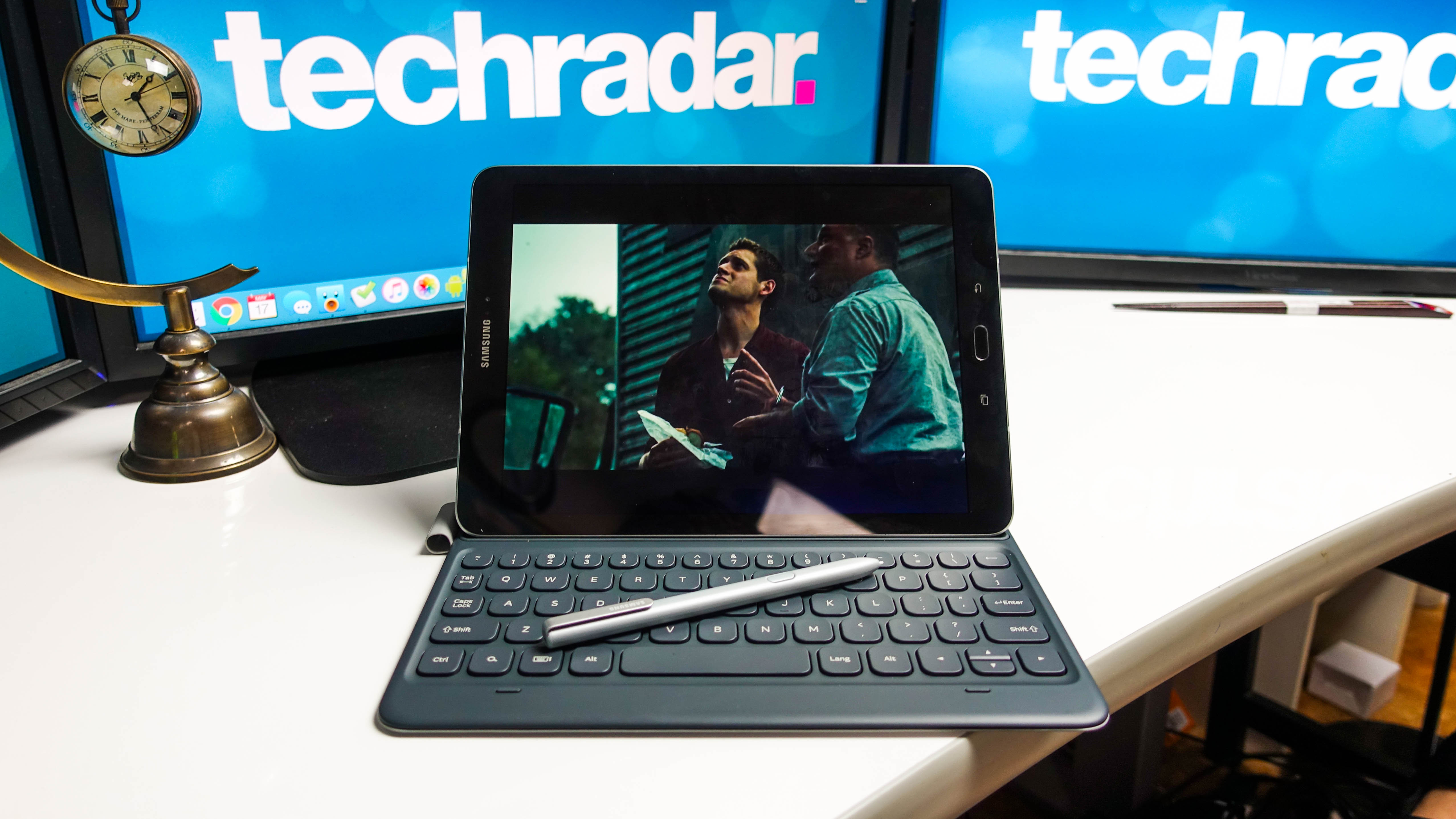 Med sin HDR-skärm streamar den vanliga HD-videor riktigt snyggt och när företag som Netflix och Amazon slår på knappen för HDR-videor för surfplattor (det finns redan i 4K tv-skärmar) kommer det se ännu bättre ut. Den tuffaste delen är att du måste vara villig att betala en del pengar nu för något som du ska använda i framtiden. Detta för att göra en framtidssäkring.
Musik drar fördel från de fyra högtalarna som sitter längs ramen. Även om de inte är placerade framför dig och pekar rakt mot dig är de kraftfulla även på medelnivån av volymen. Vi gillar också faktumet att de ändrar hur ljudet kommer ut när du vrider på plattan. De är smarta, kraftfulla och finjusterade, bättre än högtalarna som finns på de flesta surfplattor just nu, och är precis lika bra som de fyra högtalarna på iPad Pro.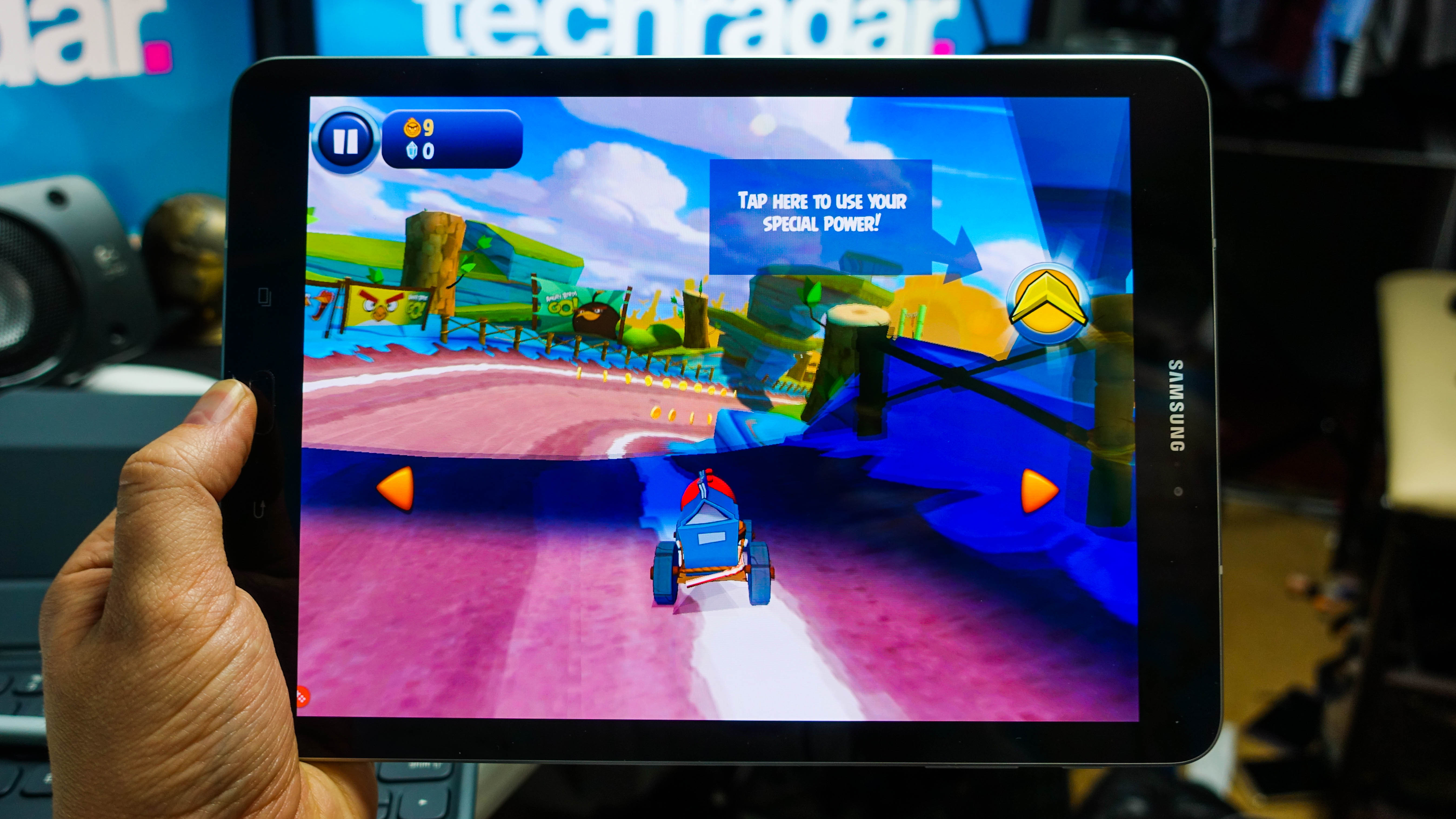 Spel på Tab S3 får sin boost från den ljusa Quad HD-skärmen och de extra högtalarna (att råka täcka alla fyra när du håller i platten horisontellt är nu nästan omöjligt). Med ett modernt Snapdragon 820-chipp och Vulkan API är denna surfplatta kapabel till att köra de bästa Android spelen (lista på engelska) som vi spelat de senaste året på våra mobiltelefoner. 
Bonuspoäng: Game Launcher (kontrollcenter för spel), som vi först såg hos Samsung Galaxy S7 (recension på engelska) och Galaxy S7 Edge (recension engelska), gör att det är mycket lättare att spela spel på surfplattan. Och ännu viktigare, den låter dig koppla bort de lättåtkomliga knapparna för 'senast' och 'bakåt' medan du spelar. Du kan också stänga av notifikationer, ta skärmbilder i spelen och spela in videor, komplett med ett frontkamera-alternativ för Let's Play-videor (videor med människor som spelar spel).
Specifikationer och prestanda
Äldre chipp, finns redan i tidigare smarttelefoner från 2016, som Galaxy S7
Den kommer fortfarande att köra alla 3D-spel som du vill
MicroSD-ingång låter dig lägga till ett extra utrymme på 256GB
Hjärtat av Samsung Galaxy Tab S3 är Snapdragon 820. Det är ett nytt chipp hos Samsungs surfplattor, men ett som vi redan sett i flera Android-telefoner under 2016.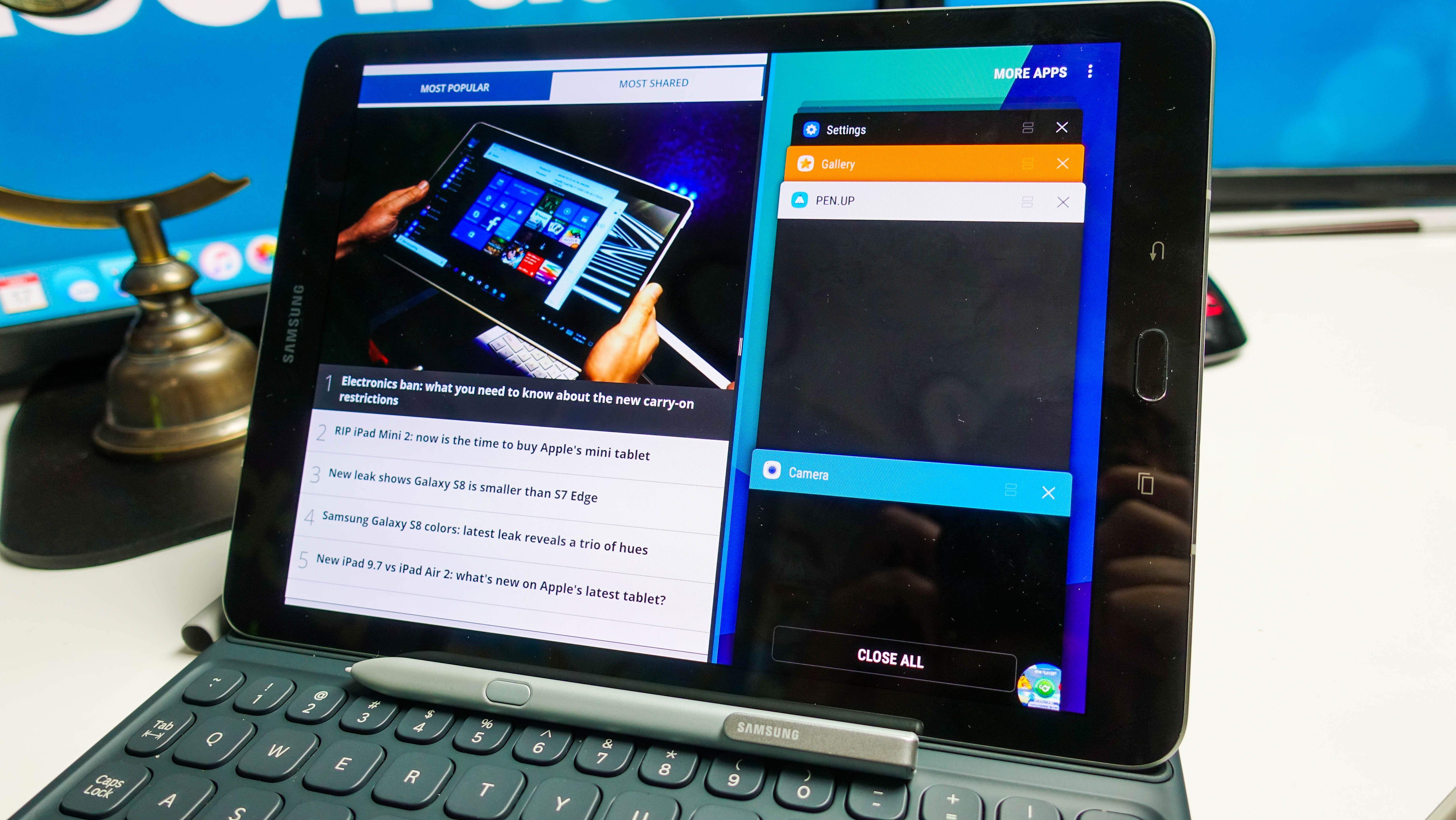 Den goda nyheten här är att detta Qualcomm SoC (system på ett chipp) är kraftfullt nog att köra de senaste 3D-spelen, och det kommer att gå under en lång tid framöver då den kommer att fortsätta vara kompatibel med nyare titlar tack vare sin oändliga popularitet bland handhållna enheter.
Nu till de sämre nyheterna: detta är förra årets chipp, med 4GB RAM – det som gjorde sin debut i Samsung Galaxy S7 och S7 Edge. Galaxy S8 är två chipp framför med Snapdragon 835.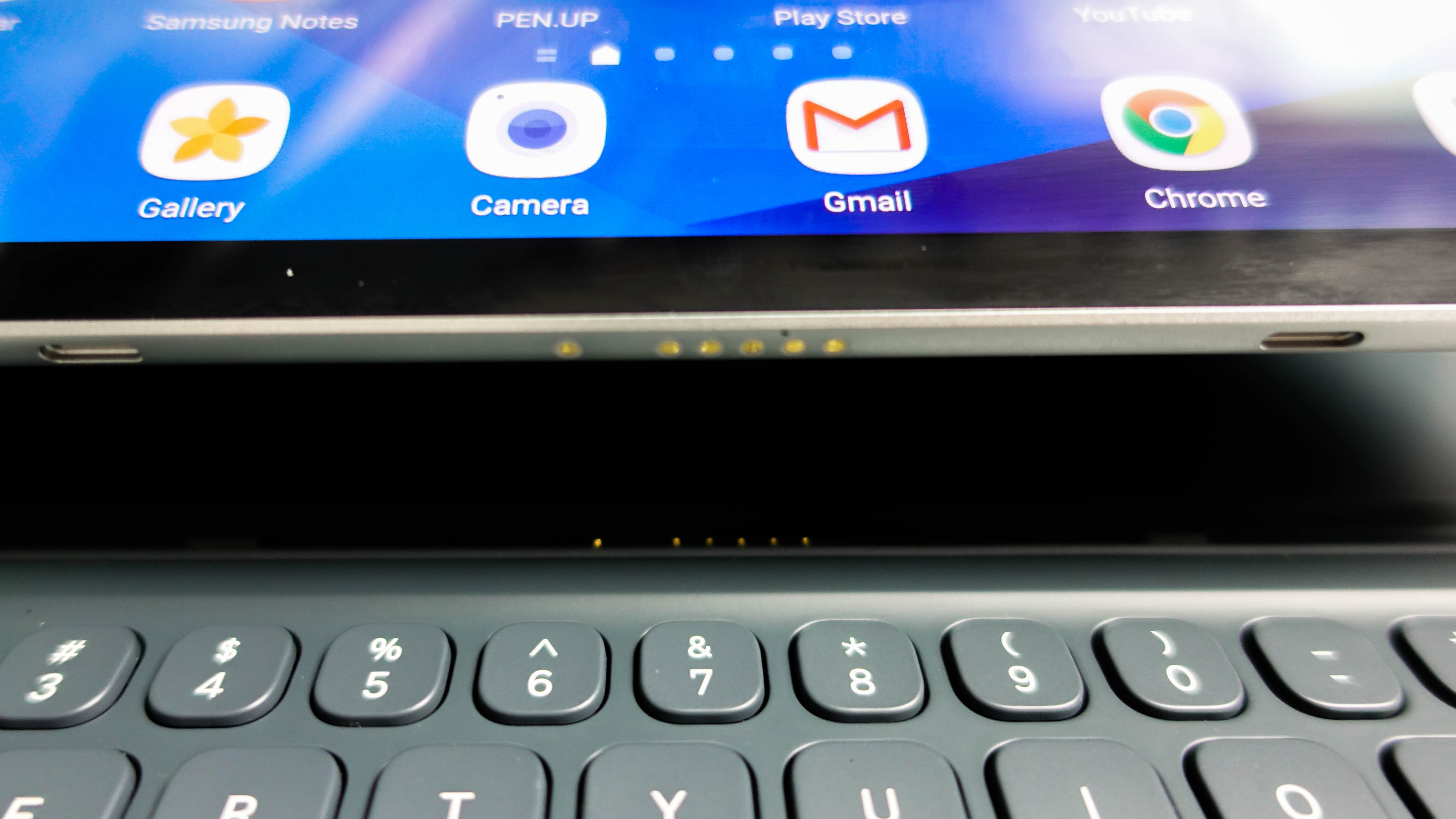 När du köper en framtidssäkrad enhet med världens första HDR-skärm på en platta är det konstigt att chippet är lite efter jämfört med förstklassiga mobiler. Den funkar smidigt – än så länge.
Samsung har valt att inkludera 32GB internt lagringsutrymme och du kan lätt lägga till 256GB med hjälp av ett microSD-kort. Det som vi gillar med detta är att du inte behöver känna dig tvingad att köpa lagringsutrymme idag, men kan uppgradera någon gång framöver när du behöver mer utrymme.
Batteritid
Mindre batteri än väntat, men klarar ändå långtidsflygningar 
HD-videospelning kan hålla igång upp till 12 timmar med rätt inställning
Anpassningsbar snabb-laddare gör att den går upp till 23% på bara 30 minuter
Detta är den första viktiga Samsung-enheten som lanserats sedan de återkallade Galaxy Note 7. Den började inte brinna och exploderade inte heller – det är den första frågan vi får när vi nämner att vi gör en recension om Samsung Galaxy Tab S3.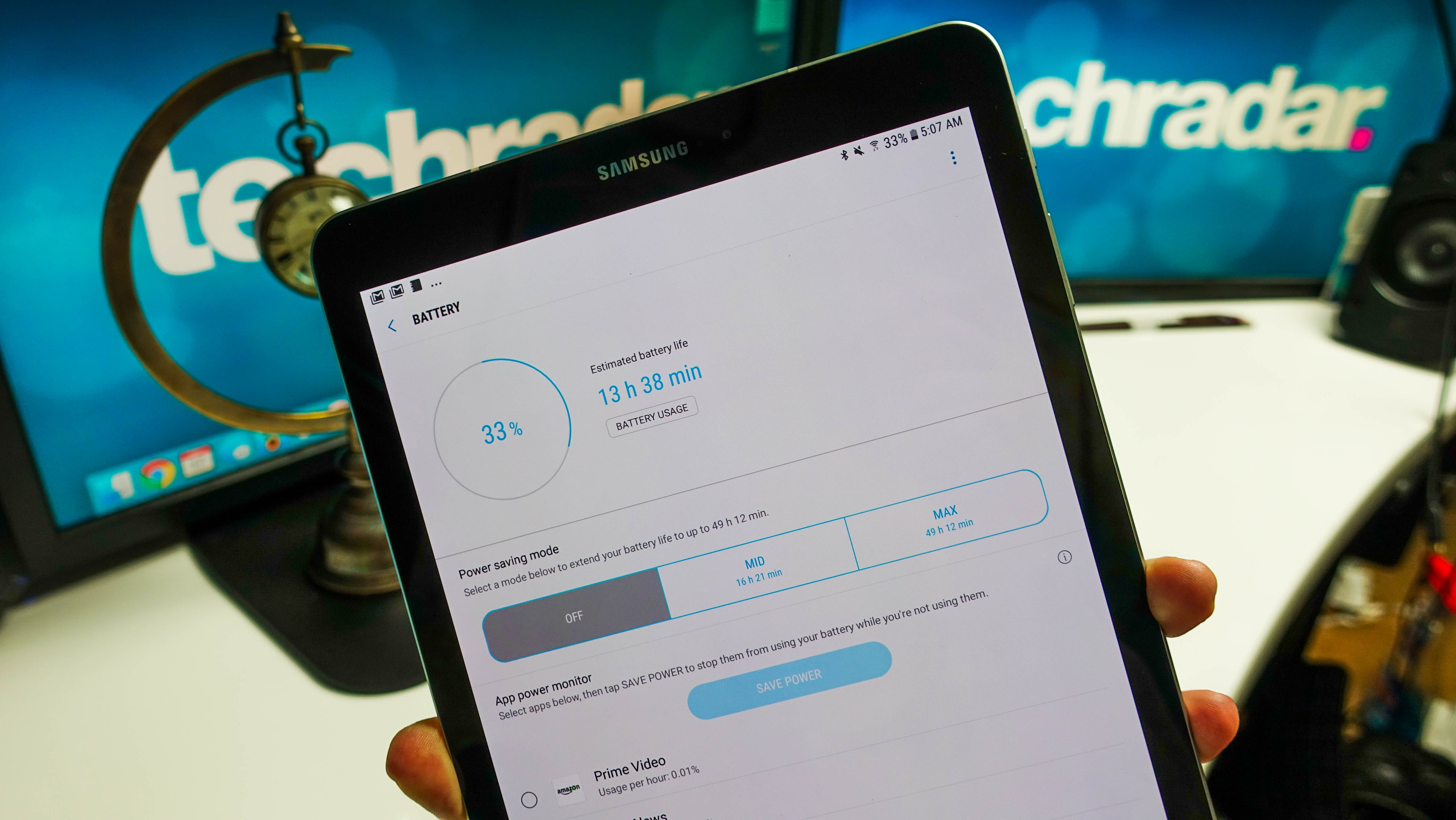 Det är ett batteri med 6,000 mAh som är lite större än batteriet hos Tab S2 med 5,870 mAh, men det är fortfarande mindre i jämförelse med kraften i iPad Pro 9.7 (runt 7,300 mAh) och Google Pixel C (runt 9,200 mAh).
I vårt test kändes det som att Tab S3 hade mer batteritid än vanligt, tillräckligt för att klara långtidsflygningar om du vill kunna kolla på några filmer och kanske utföra lite arbete. Att köra en HD-film på 90 minuter med full ljusstyrka tömde batteriet med 13%, vilket lämnade 87%.
Samsung säger att Tab S3 har tillräckligt med batteri för 12 timmars tv-tittande, och det stämmer med våra tester, med endast 30 minuters skillnad mellan vad vi sa och vad som är den officiella uppskattningen. Det finns ett energispararläge som kan hjälpa Tab S3 nå denna riktmärkning, vilket kan göra en stor skillnad när du är långt ifrån ett uttag.
Du kan ladda din Tab S3 snabbt (för att vara en surfplatta) när du använder Samsungs anpassningsbara Snabbladdare, som är inkluderad i boxen (det är samma som följer med den nyare telefonen från Samsung, så snart har du kanske två, om du är Samsungentusiast). Det tog 175 minuter att gå från 0% till 100%, vilket är tio minuter mer än Samsungs yrkande på 165 minuter.
Kamera
Fotokvaliteten hos surfplattan är inte perfekt
13 megapixlar bak och 5 megapixlar fram är lämpliga för referensbilder
Inkluderar samma kameragränssnitt som hos Note 7
Samsung Galaxy Tab S3 har en 13 megapixelkamera som du knappt kommer att använda. Den har autofokus, en f/1,9 öppnare och en blixt ifall du vill dra ännu mer uppmärksamhet till dig själv … Poängen med en surfplatta är trots allt inte att fotografera.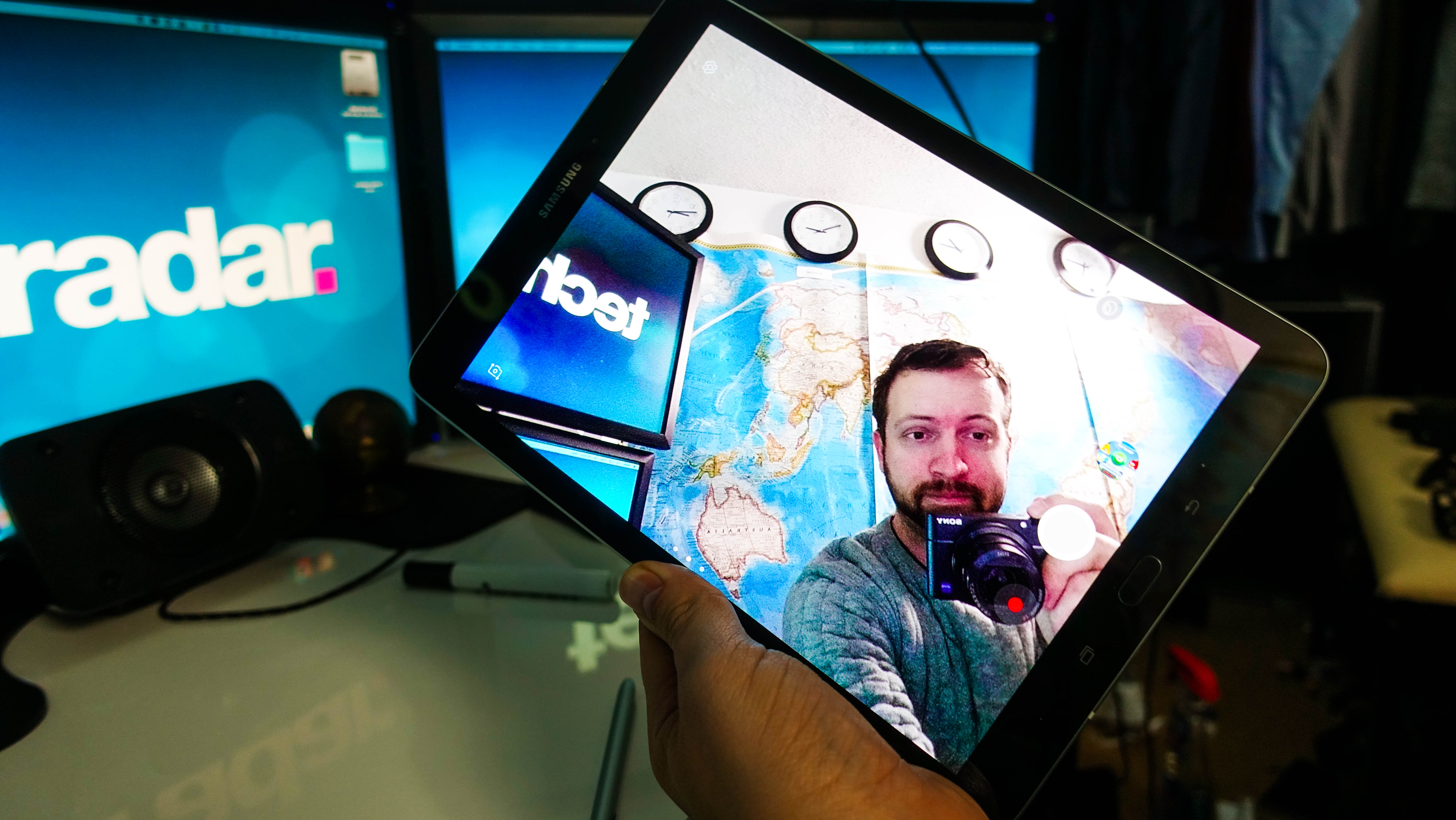 Kvaliteten är bra för att vara en surfplatta, komplett med rörelsekontroll och 4K videoinspelning, men din smarttelefon kommer alltid att vara bättre. Vi upplever att kameran på surfplattor mest används till referensbilder, där kvaliteten inte är lika viktig.
Vad som är viktigare för potentiella köpare är frontkameran för att kunna ha videosamtal. Här har Samsung satt dit en helt okej 5 megapixelkamera med f/2,2 öppnare. Som väntat är prestandan inte helt fantastiskt i dunkla miljöer – försök att undvika att logga in på konferensmöten från en dåligt ljussatt restaurang.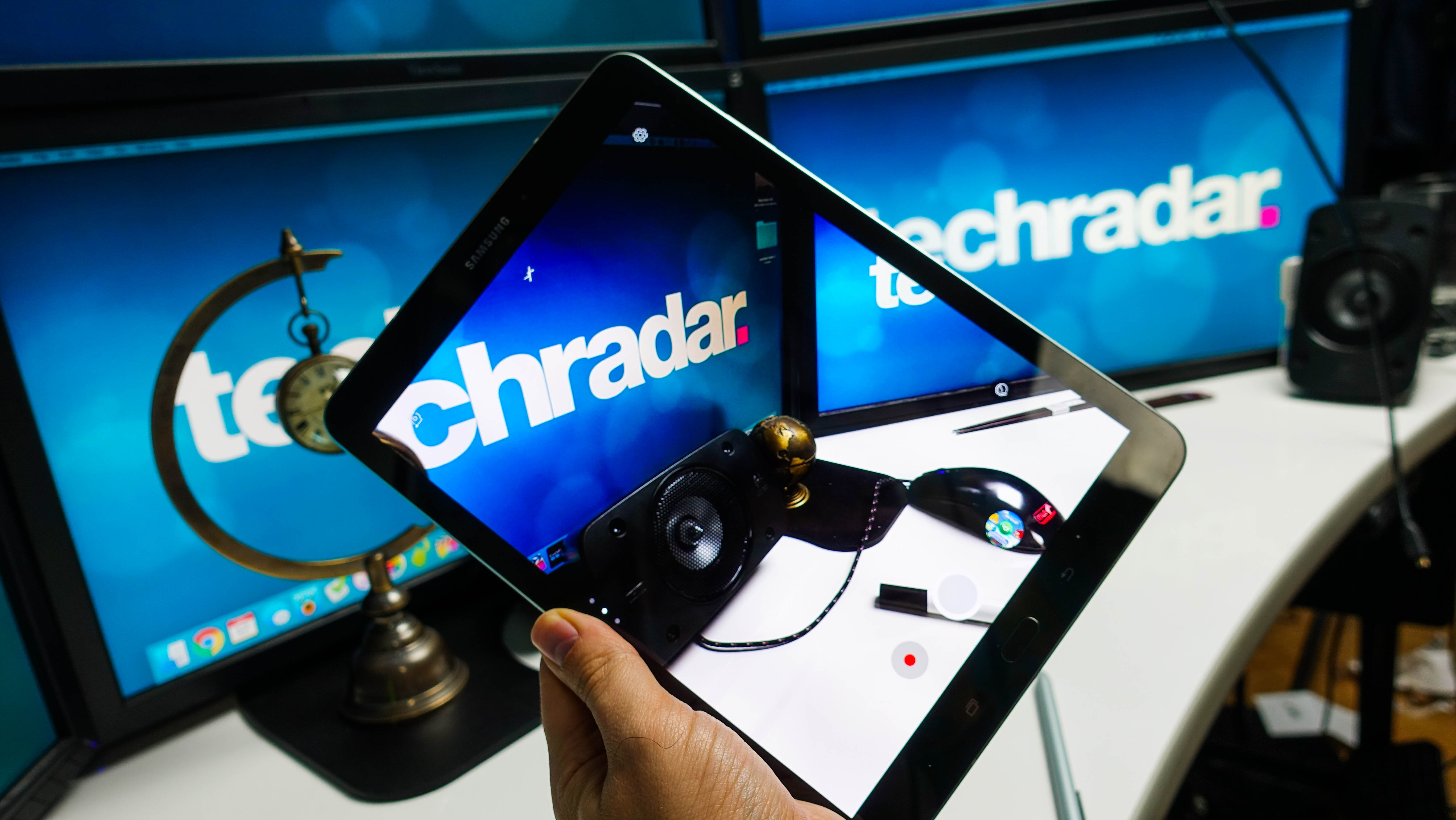 Vad vi gillar är att Tab S3 lånar det förbättrade kameragränssnittet från den återkallade Samsung Galaxy Note 7. Att kunna hoppa mellan de två kamerorna är snabbt gjort genom att dra upp eller ner direkt på skärmen (mycket bättre än att försöka hitta den lilla byt-kamera-knappen). Menyerna finns ett svep till vänster, och effekter ett svep åt höger.
Utlåtande
Samsung Galaxy Tab S3 är den bästa Androidplattan hittills och den är byggd att klara sig med sina förmågor: 2-i-1, S Pen och tangentbord, en vacker HDR-skärm och fyra pumpande stereohögtalare.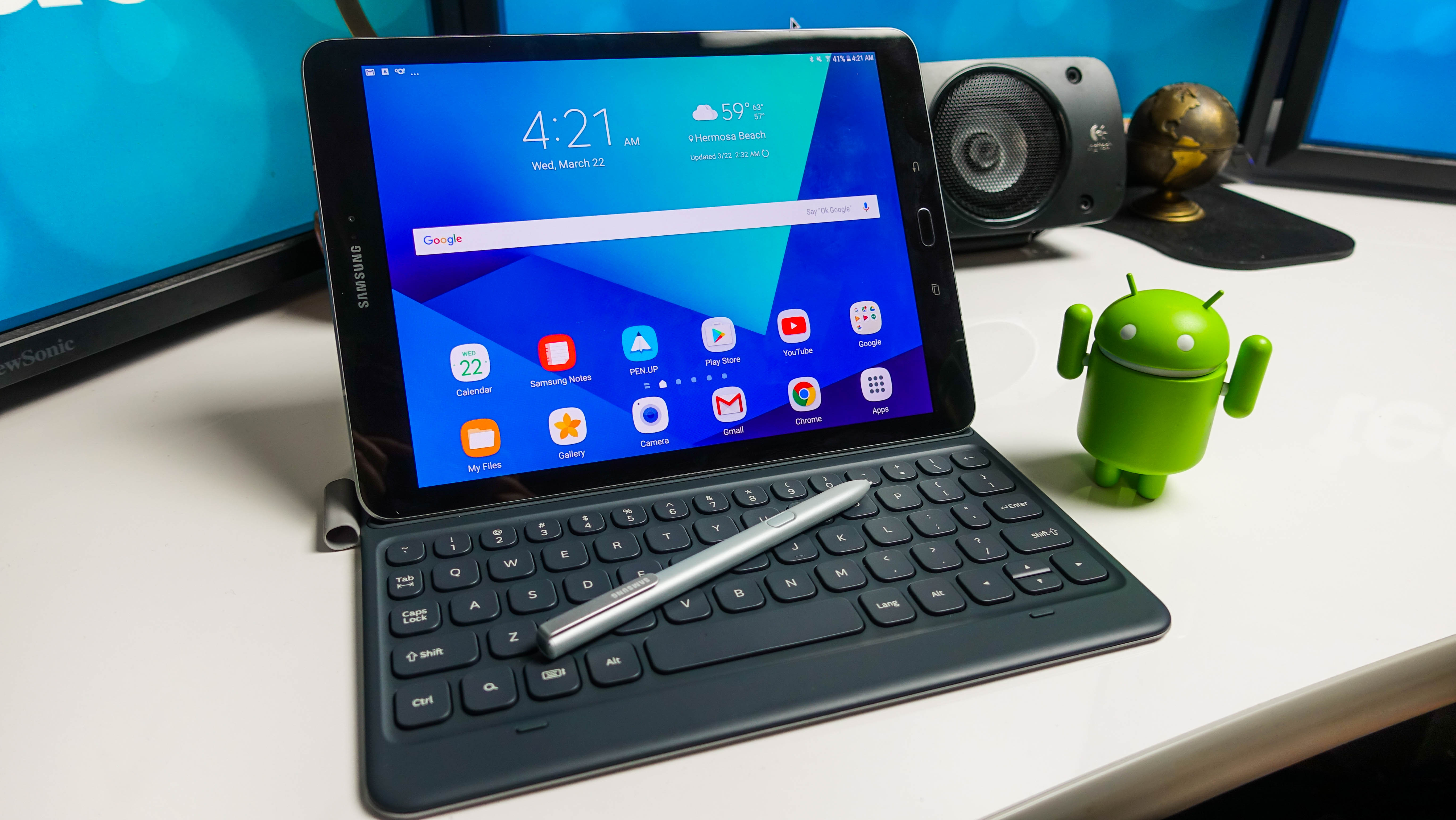 iPad Pro har mött sin like när det kommer till värde. Samsung matchar alla Apples stora hårdvaruegenskaper och lägger till sin S Pen. Du behöver betala extra för tangentbordet, men det är åtminstone billigare än Apples tangentbord, och denna går runt hela surfplattan. MicroSD-ingången sätter Samsung uppe på toppen.
Värde är inte allt dock. Den är inte garanterad en universell rekommendation; ingen Android-platta vinner första platsen bara på grund av ett lägre pris. iPad har fortfarande bättre mjukvara och brett utbud av appar. Även om Android Nougat och TouchWiz har minskat gapet mellan dem en del är multikörning på surfplattan inte tillräckligt för att öka på pluspoängen – det finns lika bra bärbara datorer för ungefär samma pris.
Det är den bästa Android-surfplattan idag, men var medveten om att värdet ligger i underhållningen gällande sin 2-i-1 klassificering, på kostnaden av dina produktivitetsförsök.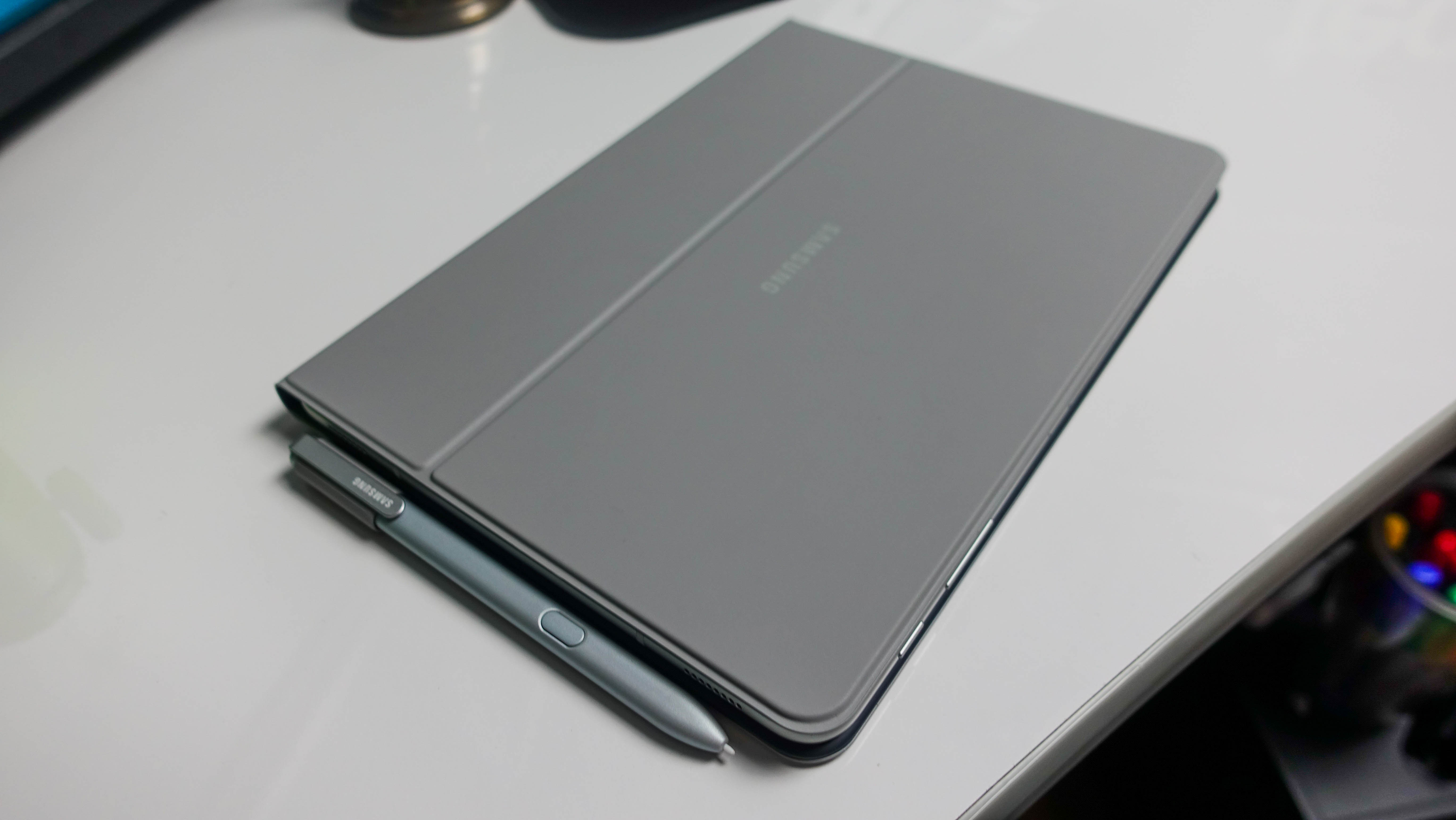 Vem är den för?
Du kräver den bästa surfplattan och vill bara ha Android. Det är målgruppen för Samsung Galaxy Tab S3. Den har en fin design, kraftfulla ljud- och bild-förmågor, och förstklassiga egenskaper, även om det är samma insida som många smarttelefoner från 2016. Den är tillräckligt framtidssäkrad med sin HDR-skärm, men du måste klara dig på det lilla HDR-utbudet som finns just nu.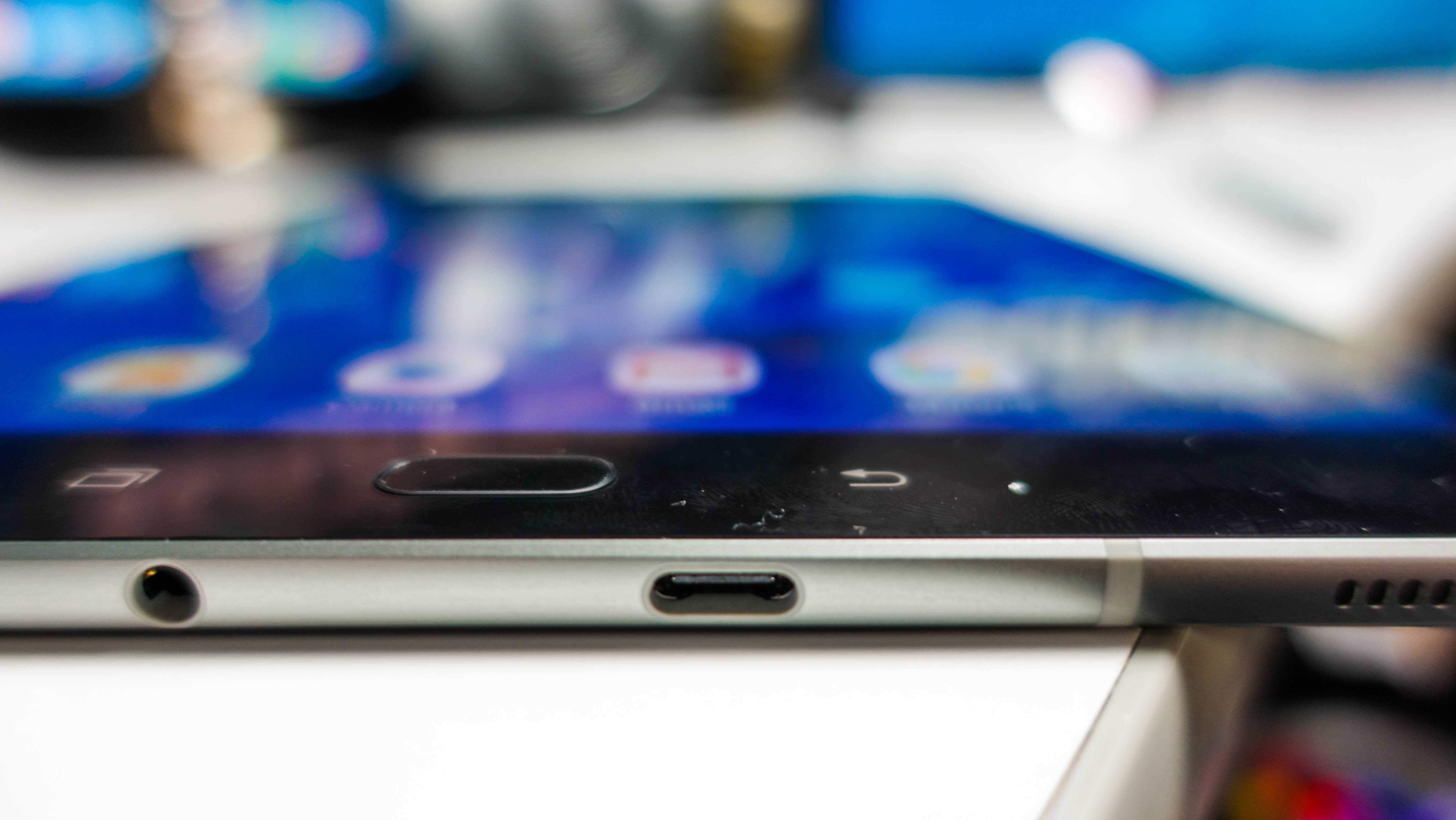 Ska jag köpa den?
Du betalar en hel del pengar för morgondagens funktioner, några som du inte kan använda idag. Med det sagt, om du gillar att vara först med tekniken och vill kunna se filmer med en HDR-skärm i framtiden är detta rätta plattan att köpa. Att köpa till tangentbordet gör att du kan fortsätta vara produktiv, om du klarar av att sakta ner din arbetshastighet för att passa med farten hos Androids multikörning.